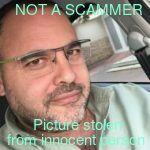 Username Michael1213
Email michaelbriansteve@gmail.com
Name Michael Brian Steve
Looking for Female
Age 52 y.o.
Country Germany
City Berlin
Here for Friendship, Serious Relationship, Marriage
Marital status Divorced
Sexual Orientation Straight
Children I have 1-2 children living elsewhere
Ethnicity Mixed
Religion Christian
Body Type Fit
Education Masters Degree
Occupation Self Employed Entrepreneur
IP address 154.160.6.107 – Ghana
---
Username bedolfina
Email bedolfina@gmail.com
Looking for Female, Both
Age 60 y.o.
Country United Kingdom
City Belfast
Here for Friendship, Romance, Serious Relationship, Marriage
Marital status Single
Sexual Orientation Straight
Children I have 1-2 children living elsewhere
Ethnicity Hispanic
Religion Other
Body Type Average
Education PhD
Occupation Agriculturist
Description
I am flexible, reliable and possess excellent time keeping skills. I am an enthusiastic, self-motivated, reliable, responsible and hard working person. I am a mature team worker and adaptable to all challenging situations. I am able to work well both in a team environment as well as using own initiative.
IP address 197.210.85.71 – Nigeria
– different picture on hangouts
---
Username GEORGE1
Email ltrue890@gmail.com
Gender Male
Looking for Female
Age 54 y.o.
Country United States
City texas
Here for Friendship, Romance, Serious Relationship, Marriage
Marital status Divorced
Sexual Orientation Straight
Children I have 1-2 children living elsewhere
Ethnicity White
Religion Christian
Education Other
Description
I AM LOOKING FOR A SERIOUS RELATIONSHIP
IP address 154.160.17.206 – Ghana
---
Username Philipfrankkim
Email philipfrankkim@gmail.com
Name Philip Frank Kim
Looking for Female
Age 51 y.o.
Country Malaysia
City Johor Bahru
Here for Serious Relationship
Marital status Separated
Sexual Orientation Straight
Children I don't have children
Ethnicity Mixed
Religion Other
Body Type Fit
Education Masters Degree
Occupation Vietinary doctor
IP address 129.205.113.1 – Nigeria
---
Username richardfrankie
Email shemarmoore189029@gmail.com
Name richard Frankie, Shemar Moore
Looking for Female
Age 50 y.o.
Country United Kingdom
City london
Here for Serious Relationship
Marital status Divorced
Sexual Orientation Straight
Children I have 1-2 children living elsewhere
Ethnicity Other
Religion Christian
Body Type Fit
Education Other
Occupation student
Description
i am richard by name and i love meeting new people
IP address 154.160.30.90 – Ghana
This post was viewed 389 times