Username prettycomfort66
Email prettycomfort66@gmail.com
Name Pretty Comfort
Looking for Male
Age 63 y.o.
Country United States
City Montana
Here for Serious Relationship
Marital status Single
Sexual Orientation Straight
Children I don't have children
Ethnicity White
Religion Christian
Body Type Fit
Education High School
Occupation seller
Description
l'm new here looking for a serious relationship with benefit
IP address 74.82.60.72 – proxy
---
Username Jennifer550
Email lovelislove00@gmail.com, lovelyemmanuella87@gmail.com
Gender Female
Looking for Male
Age 33 y.o.
Country United States
City New York
Here for Serious Relationship
Marital status Single
Sexual Orientation Straight
Children I don't have children
Ethnicity White
Religion Christian
Body Type Slim
Education Masters Degree
Occupation Trader
Description
I am single, with no kids and never been married whiles looking to find a conscious man to build monogamous relationship and also share good & bad together.. possible have Kids with him.. So are you willing to have more Kids?
IP address 89.41.26.61 – proxy
---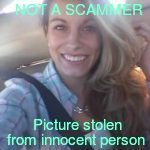 Username sharrison2044
Email skyglowithpride@icloud.com
Age 38 y.o.
Here for Serious Relationship, Marriage
Looking for Male, Female
My match's age from 25 to 86
Location Holly Hill, FL 32117, USA
Marital status widowed
Children 1-2 living with me
Sexual Orientation Straight
Ethnicity white
Religion Christian
Occupation registered Nurse
Description
I'm a smart, attractive and independent woman. I am a little bit on the shy side, but once I get to know someone I open up. One of my best attributes is that I can talk about anything and I am a good listener. I find people in general fascinating. I am an honest person. A widow woman,and i have a daughter, I am always trying to be a good example of what a good woman needs to be. I love to laugh and I have a serious side and a jokester side. I am a loyal person – a good friend, am proud of that fact. I don't believe that there is such a thing as a "perfect" match, but my ideal match would be a mentally mature man, who loves to laugh and have a good time in life. Someone who actually wants a relationship and does not play games. He should be a descent human being and kind at heart.
IP address 75.81.104.136 – proxy
---
Username pennyv001
Email pennyw363@gmail.com
Looking for Male
Age 30 y.o.
Country United States
City lowell ma
Here for Serious Relationship
Marital status Widowed
Sexual Orientation Straight
Children I have 1-2 children living with me
Ethnicity Native American
Religion Christian
Body Type Fit
Education Masters Degree
Occupation don't work for now
Description
i'm a hardworking caring and loving woman i have a 7 years old boy his my word…..i'm looking for long term relationship
IP address 197.210.53.65 – Nigeria
---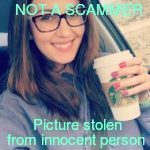 Username txt6502040695
Email nancymurray315@gmail.com
Name Nancy Murray
Looking for Male
Age 31 y.o.
Country United States
City tuscaloosa
Here for Serious Relationship, Marriage
Marital status Single
Sexual Orientation Straight
Children I don't have children
Ethnicity White
Religion Christian
Body Type Average
Education Some college
Occupation Am a hair dresser by profession
Tel 650-204-0695
Description
i deal with beauty of man and woman both, and am so proud of my profession
IP address 104.194.220.111 – proxy
---
More emails of scammers
romattt58@gmail.com
tectarc285@gmail.com
lucyohara140@gmail.com
Alhassanjoyce377@gmail.com
Jessicawhite1100@gmail.com
valeriecooks111@gmail.com
donnarogerwalker35@gmail.com
dennisfrancisco858@gmail.com
rosekatt741@gmail.com
This post was viewed 787 times