Username Robbertjeff
Email jeffboomer36@gmail.com, jeffboomer36@hotmail.com
Name Jeff Boomer
Looking for Female
Age 36 y.o.
Country United States
City North Carolina
Here for Romance, Serious Relationship, Marriage
Marital status Widowed
Sexual Orientation Straight
Children I want children
Ethnicity Native American
Religion Christian
Body Type Fit
Education Masters Degree
Occupation Businessman
Description
I am an easy going man
Very kind and so responsible and I have God fearing in me and I love my life
Only here to looking for the true love of my life and when we meet you gonna know me much better and life my life
IP address 84.17.35.242  – proxy
---
Username Harrell101
Email mrharrellpendergrass@gmail.com
Name Harrell Pendergrass
Looking for Female
Age 54 y.o.
Country United States
City Los Angeles
Here for Friendship, Serious Relationship, Marriage
Marital status Single
Sexual Orientation Straight
Children I want children
Ethnicity White
Religion Christian
Body Type Average
Education Masters Degree
Occupation Civil Engineer
Description
I am spiritual, religious, and a Christian. I am straightforward, strong willed, and therefore I don't smoke at all,I believe in treating others as I like to be treated; with kindness, courtesy, consideration, honesty, respect, etc. I do not judge others; that is up to God and I am not prejudice unless it comes to someones negative (bad) character and lack of respect, courtesy, kindness, honesty, etc. I view others through their eyes; the windows to their soul (heart) not through their physical features or attributes. Actions speak louder than words with me.
IP address 162.253.68.197 – proxy
---
Username nicholaslett0707
Email nicholaslett070@gmail.com
Name Nicholas Lett
Looking for Female
Age 52 y.o.
Country United States
City Ohio
Here for Serious Relationship
Marital status Divorced
Sexual Orientation Straight
Children I have 1-2 children living elsewhere
Ethnicity White
Religion Other
Body Type Average
Education Bachelors Degree
Occupation Medical
Description
i really do not what to write about my self but you can ask me anything and i will sincerely answer you. further more i would say am a very simple modest and understanding man
IP address 46.246.123.163 – proxy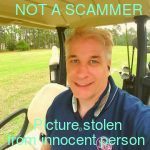 ---
Username brenttaylor
Email Trustsoul162@gmail.com
Name Brent Taylor
Looking for Female
Age 54 y.o.
Country United States
City California
Here for Marriage
Marital status Divorced
Sexual Orientation Straight
Children I want children
Ethnicity Native American
Religion Christian
Body Type Average
Education PhD
Occupation Civil engineer
IP address 105.112.41.123 – Nigeria
---
Username Chrisbenjamin
Email Chrisbenjamin293@gmail.com
Name Chris Benjamin
Looking for Both
Age 63 y.o.
Country United States
City California City
Here for Serious Relationship
Marital status Single
Sexual Orientation Bisexual
Children I have 1-2 children living with me
Ethnicity Other
Religion Christian
Body Type Slim
Education Other
Occupation Bussiness
Description
I AM CHRIS BENJAMIN I LIVE IN CALIFORNIA WORKING AND MAKING GOOD LIVING FOR MY FAMILY.LOYAL AND HONEST, WITH GOD FEARING HEART
IP address 176.113.72.126 – proxy
This post was viewed 783 times