Username Jessa35
Email Adolfelizabeth35@gmail.com
Name Elizabeth Adolf
Looking for Male
Age 36 y.o.
Country United Kingdom
City Cardiff
Here for Serious Relationship
Marital status Single
Sexual Orientation Straight
Children I want children
Ethnicity Asian
Religion Christian
Body Type Slim
Education High School
Occupation Self employed
Description
I didn't plan on being a single lady living a lonely life but life itself has taught me a lot of reasons behind my singleness
IP address 63.246.128.158 – proxy
---
Username wendykiss
Email truetolife59@gmail.com
Age 44 y.o.
Here for Romance, Serious Relationship, Marriage
Looking for Male
My match's age from 19 to 86
Location Houston, TX, USA
Marital status single
Children no children
Sexual Orientation Straight
Ethnicity white
Religion Christian
Occupation Nurse
Description
Easy going lady who is romantic and love to eat healthy
IP address 172.98.174.75 – proxy
---
Username Arianna
Email isabellamustapha40@gmail.com, lovelyrose52k@gmail.com, lindalincon@gmail.com
Name Isabella Mustapha, Linda Lincon
Looking for Male
Age 29 y.o.
Country United States
City Alabama
Here for Serious Relationship
Marital status Single
Sexual Orientation Straight
Children I don't have children
Ethnicity White
Religion Christian
Education Masters Degree
Tel 817-668-5753, 508-296-5702
IP address 105.112.37.120 – Nigeria
---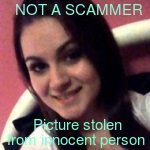 Username AliceBraga89
Email smith.mariam40@yahoo.com
Gender Female
Looking for Male
Age 37 y.o.
Country United States
City Milwaukee
Here for Serious Relationship, Marriage
Marital status Single
Sexual Orientation Straight
Children I don't have children
Ethnicity Mixed
Religion Spiritual
Body Type Fit
Education Some college
Occupation Interior decorator
Description
I am an honest heart that's looking for a stable relationship. I understand it is important to lay down lasting foundations for a lasting relationship. I am an active person who enjoys Music and Movies best. I believe keeping fit is important. I am not interested in games or drama. I am a simple woman who have never been married have one kid and am wishing to meet some one who has a great sense of humor and is willing to build a great future with me life time. I am someone who value Gods presence in my life very much. Life is too short for games and drama, I am a fun loving Christian woman who takes each day as a gift from God. I'm kind, thoughtful, sincere, respectful person with moral virtues and Christian values. I'm a happy person, okay with being me, but it would be nice to find that special person to love, cherish, and complete me.
IP address 45.56.173.83 – proxy
---
Username Natashagreg500
Email Natashagreg500@gmail.com, patriciaalhandro2@gmail.com, jennifertetteh001@gmail.com, patricialovelyk7@gmail.com
Name Natasha Greg, Patricia Alhandro, Jennifer Tetteh
Looking for Male
Age 38 y.o.
Country United States
City Carlifornia
Here for Marriage
Marital status Single
Sexual Orientation Straight
Children I don't have children
Ethnicity White
Religion Christian
Body Type Fit
Education High School
Occupation Self-employed
Tel 202-844-8534
Description
I am Natasha Greg by name 37 years of age from carlifornia I am new on here to find the man I we spend the rest of my life with,i am easy going lady with high integrity,i am humble kind honest intelligent,easy going lady, good and one man woman
IP address 197.210.46.223 – Nigeria
---
More emails of scammers
gregorysmith1th@gmail.com
wagnerbarry114@gmail.com
Michaelgofo@gmail.com
helen.manthey64@yahoo.com
oeugene659@gmail.com
markusforystek@gmail.com
koomson37@yahoo.com
Sgtjamesacody@gmail.com
jbasilia404@gmail.com
Alberthannah11@gmail.com
akpsand2018@gmail.com
This post was viewed 692 times