Username Direne
Email durhamirene00@gmail.com
Name Irene Durham
Looking for Male
Age 36 y.o.
Country United States
City Houston
Here for Friendship, Romance, Serious Relationship, Marriage
Marital status Single
Sexual Orientation Straight
Children I want children
Ethnicity White
Religion Christian
Body Type Slim
Education PhD
Occupation Event Planner
Description
Simple lady loving life, Lover of Nature And Photograph
I'm Irene chat me up if you wanna know more about me on here or hangouts Durhamirene00@gmail.com
IP address 207.204.248.44 – proxy
---
Username Vignette
Email vignettedoucet@gmail.com
Name Vignette Doucet
Looking for Male
Age 32 y.o.
Country France
City Dijon
Here for Serious Relationship
Marital status Single
Sexual Orientation Straight
Children I don't have children
Ethnicity White
Religion Christian
Body Type Slim
Education Other
Occupation Salon de Beauté
Description
Coucou bonsoir Je me nomme Vignette Je suis Nouvel sur le site et j'aimerais Fais ample de Connaissance j'espère que cela Ne vous Dérange Pas du tous
Voici mon adresse Gmail-hangouts
vignettedoucet@gmail.com
IP address 160.154.248.120 – Ivory Coast
---
Username Sosoprecious
Email gowitgod119@gmail.com
Looking for Male
Age 36 y.o.
Country United States
City Van Nuys CA
Here for Serious Relationship
Marital status Single
Sexual Orientation Straight
Children I don't have children
Ethnicity Asian
Religion Christian
Body Type Athletic
Education High School
Occupation Self employed
Description
Easy going person
IP address 154.13.1.107 – proxy
– different picture on hangouts
---
Username 3072224453
Email Annabellaadams0000@gmail.com
Name Annabella Adams
Looking for Male
Age 33 y.o.
Country United States
City milawukee
Here for Friendship, Romance, Serious Relationship, Marriage
Marital status Single
Sexual Orientation Straight
Children I don't have children
Ethnicity White
Religion Christian
Body Type Athletic
Education High School
Occupation Unemployed
Tel 307-222-4453
Description
HI! I'm real lady for you! I think women should always stay a woman and look beautiful no matter what she does. I am a one-man-woman, I never cheated, or build relationships with few men at the same time. I am honest and Current-Fashioned in relationships! I'm romantic loyal and sensitive woman! Look my pictures, and if you have a smile, please write me!Now I should tell more about characteristics of my ideal man! I should tell you, that I'm not searching for a prince, or king! I have my wish to love and be loved! And I want to meet my real man, as myself! We should do all for our happy life! We shouldn't sit here, and write letters here, we should meet face-to-face and then, we can understand our feelings better, than one thousand letters! Do you agree with me? Hope to hear you, my sensitive man.Message Me On Annabellaadams0000 gmai
Or My Phone #3072224453
IP address 154.16.81.127 – proxy
---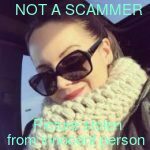 Username Heidhdkso
Email Janelorson@gmail.com
Name Jane Lorson
Looking for Male
Age 33 y.o.
Country United States
City Arizona
Here for Friendship, Romance, Serious Relationship, Marriage, Just Fun
Marital status Single
Sexual Orientation Straight
Children I don't have children
Ethnicity White
Religion Christian
Body Type Fit
Education Some college
Occupation Model
Description
i am 33 years Old,I am Single 5′ 3″, 141 lbs.,nice Hair and a healthy woman. I am self sufficient, Beautiful, happy, secure, self confident, psychologically aware, emotionally and financially secure.
IP address 185.236.200.23 – proxy
---
More emails of scammers
onuohaakachi@gmail.com
lovemegoodness@gmail.com
boladc077@icloud.com
Merrypally1@gmail.com
irenebessie611@gmail.com
smithlois940@gmail.com
cindyforson2@gmail.com
lidyalove7@gmail.com
This post was viewed 282 times