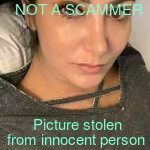 Username Mooreclara170
Email Mooreclara1700@gmail.com
Name Clara Moore
Looking for Male
Age 31 y.o.
Country United States
City Illinois
Here for Serious Relationship
Marital status Widowed
Sexual Orientation Straight
Children I want children
Ethnicity White
Religion Christian
Body Type Few Extra Pounds
Education Some college
Occupation Stylist
IP address 154.21.114.209 – proxy
---
Username diannaschmidt11
Email diannaschmidt110@outlook.com
Name Dianna Schmidt
Age 36 y.o.
Here for Friendship, Serious Relationship
Looking for Male
My match's age from 34 to 86
Location Oslo, Norway
Marital status single
Children no children
Sexual Orientation Straight
Ethnicity mixed
Religion Christian
Occupation sykepleier
Description
Jeg brenner for en middag med levende lys hvor jeg og partneren min holder hender sammen og deler intime ting om hverandre.
IP address 45.92.228.53 – proxy
---
Username GIFTYOSEI4
Email giftycohen@gmail.com
Looking for Both
Age 33 y.o.
Country United Kingdom
City chelsea
Here for Serious Relationship
Marital status Single
Sexual Orientation Straight
Children I want children
Ethnicity Mixed
Religion Christian
Body Type Average
Education Some college
Occupation trader
Description
Hello, just a few lines here to introduce myself; I am an easy going sort of person I enjoy cooking, sport, going to the beach (which is not that far away)and leisure activities. My home is in chelsea which is in the united kingdom and the climate here is very mild. I live alone in my own house and have no children and have never been married.(Although I would like to if I met the Mr RIGHT.) I am a non smoker and I try to be as active as possible because a healthy lifestyle is important to me. I enjoy good food, restaurants and socializing and also the simple things in life. I believe that a good sense of humor is essential to keep things in perspective and maintain a positive attitude. I do not watch that much tv but I do like a good comedy, good movies and documentaries. I love animals but I don't have any pets. I enjoy gardening, sightseeing and bush walks. We are going into our summer here and I look forward to many trips down to the beach-there are a lot of good beaches nearby and I love driving my car down there. OK.
IP address 37.130.229.149 – proxy
---
Username Aly
Email friendsfamilies217@gmail.com
Looking for Male
Age 22 y.o.
Country United States
City Chicago
Here for Friendship, Romance, Serious Relationship, Marriage, Just Fun
Marital status Single
Sexual Orientation Straight
Children I don't have children
Ethnicity Mixed
Religion Other
Body Type Athletic
Education Student
Occupation Currently studying
Description
I am a hopeless romantic and always strive to believe in the good within everyone. I'm straightforward about my needs, and honest when I feel hurt. I am looking for an equally positive partner who loves to try new experiences and is a great and open communicator.
IP address 209.107.210.94 – proxy
---
Username BellaWow
Email tockabrat@gmail.com
Looking for Male
Age 26 y.o.
Country United States
City New York
Here for Friendship, Romance, Serious Relationship, Just Fun
Marital status Single
Sexual Orientation Straight
Children I don't have children
Ethnicity White
Religion Christian
Body Type Athletic
Education Bachelors Degree
Occupation It
IP address 79.141.175.150 – proxy
---
More emails of scammers
Rosemarythomas5080@gmail.com
jessicabrook706@gmail.com
Belladoug233@gmail.com
jessigrep1@gmail.com
nancyst200@gmail.com
Brucejane155@gmail.com
samanthahills796@gmail.com
olondon73@gmail.com
Wizardbrixton@gmail.com
807-234-0428
This post was viewed 888 times