Username Ambrose4
Email Ambroseowen190@gmail.com, bettan_56@yahoo.se, Ambroseowen573@yahoo.com
Name Ambrose Owen
Looking for Female
Age 53 y.o.
Country United States
City Orlando
Here for Serious Relationship
Marital status Widowed
Sexual Orientation Bisexual
Children I have 1-2 children living with me
Ethnicity Other
Religion Christian
Body Type Fit
Education Other
Occupation Work with National Human right
Description
I'm an easy going, honest,kind hearted,hardworking type, who does need support of a loving, caring and romantic woman .ideally ,I'm self confident straight to the point and don't panic
IP address 197.210.79.61 – Nigeria
---
Username Logan5
Email Loganjason689@gmail.com
Name Logan Jason
Looking for Female
Age 55 y.o.
Country United States
City Florida
Here for Serious Relationship, Marriage
Marital status Divorced
Sexual Orientation Bisexual
Children I have 1-2 children living elsewhere
Ethnicity Other
Religion Christian
Body Type Fit
Education Other
Occupation UN Military intelligence officer
Description
Am an easy going man.. I don't like a woman with hot tempered, I want a loving, caring, trustworthy, truthful, woman..
IP address 197.210.79.103 – Nigeria
---
Username LucasChen
Email lucaschan20221@gmail.com
Name Lucas Chen
Looking for Both
Age 50 y.o.
Country China
City Beijing
Here for Marriage
Marital status Widowed
Sexual Orientation Straight
Children I have 1-2 children living elsewhere
Ethnicity Asian
Religion Buddhist
Body Type Average
Education Masters Degree
Occupation Dental doctor
Description
I am a very simple person with an understanding behaviours
IP address 41.57.208.5 – Ghana
---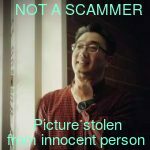 Username Danie100
Email retavasarthur@gmail.com
Name Retavas Arthur
Looking for Female
Age 31 y.o.
Country Nigeria
City lagos
Here for Serious Relationship
Marital status Separated
Sexual Orientation Straight
Children I don't have children
Ethnicity Other
Religion Other
Body Type Slim
Education Some college
IP address 154.160.27.21 – Ghana
---
Username alexander19
Email Alexandergastro3800@gmail.com
Name Alexander Gastro
Age 59 y.o.
Here for Serious Relationship, Marriage
Looking for Female
My match's age from 40 to 86
Location England, UK
Marital status widowed
Children 1-2 living elsewhere
Sexual Orientation Straight
Ethnicity mixed
Religion Christian
Occupation Medical doctor
Description
Am a man of integrity and honesty. i love everyone round me to be happy, am free and nice to be with. am a God fearing man with a great futures
IP address 102.219.52.1 – Nigeria
This post was viewed 524 times