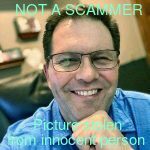 Username Norman673
Email Jasonnorman673@gmail.com
Name Jason Norman
Looking for Female
Age 60 y.o.
Country United States
City Atlanta Georgia
Here for Serious Relationship, Marriage
Marital status Widowed
Sexual Orientation Straight
Children I have 1-2 children living with me
Ethnicity White
Religion Christian
Body Type Average
Education Masters Degree
Occupation Engineer
Description
Seeing my beautiful daughter happy makes me a proud dad
IP address 154.160.4.175 – Ghana
---
Username versionnad23
Email jasonj178@yahoo.com
Name Jason Blondrage
Looking for Female
Age 48 y.o.
Country United States
City Chicago
Here for Serious Relationship
Marital status Widowed
Sexual Orientation Straight
Children I have 1-2 children living with me
Ethnicity White
Religion Christian
Body Type Average
Education Some college
Occupation Geographical Support
Description
The main thing you have to know about me is that I'm open-minded and funny. I like making jokes and I'm always up for a nice laugh. That doesn't Mean I'm not serious. It's just that sometimes it's easier to turn a problem into a joke rather than put your feet up and contemplate over the matter.
IP address 50.209.209.58 – proxy
---
Username Sekanniryan01
Email Sekanniryan01@gmail.com
Age 37 y.o.
Here for Friendship, Serious Relationship, Marriage
Looking for Female
My match's age from 33 to 70
Location Dallas, TX, USA
Marital status single
Children 1-2 living elsewhere
Sexual Orientation Straight
Ethnicity black
Religion Christian
Occupation Modeling
IP address 2.56.188.51 – proxy
---
Username Michaelharris1
Email patienceagbovi88@gmail.com
Name Michael Harris
Looking for Female
Age 55 y.o.
Country United States
City Ontario
Here for Friendship, Romance, Serious Relationship, Marriage
Marital status Widowed
Sexual Orientation Straight
Children I want children
Ethnicity White
Religion Christian
Body Type Average
Education Bachelors Degree
Occupation Engineer
Description
Easygoing and honest person, believe in the power of love
IP address 154.160.14.122 – Ghana
---
Username Donbilly
Email donaldsctott4566@gmail.com
Name Donald Scott
Looking for Female
Age 55 y.o.
Country Mexico
City California
Here for Serious Relationship, Marriage
Marital status Widowed
Sexual Orientation Straight
Children I have 3 or more children living with me
Ethnicity Other
Religion Christian
Body Type Few Extra Pounds
Education Masters Degree
Occupation Bank Manager
Description
Living a smiple life
IP address 102.69.220.37 – Ghana
This post was viewed 127 times