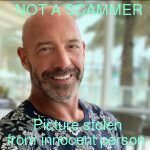 Username Austinscott
Email austinscottofficial7@gmail.com
Name Austin Scott
Looking for Female
Age 52 y.o.
Country United States
City Hawaii
Here for Serious Relationship
Marital status Widowed
Sexual Orientation Straight
Children I don't have children
Ethnicity White
Religion Christian
Body Type Athletic
Education Masters Degree
Occupation Engineer
Description
I'm me, not overly interesting… But still me
IP address 27.122.12.26 – proxy
---
Username edrdon34
Email edwarddon23@gmail.com
Name Edward Don
Looking for Female
Age 70 y.o.
Country United States
City Miami
Here for Serious Relationship
Marital status Widowed
Sexual Orientation Straight
Children I have 1-2 children living elsewhere
Ethnicity White
Religion Christian
Body Type Average
Education Bachelors Degree
Occupation Self Employed
IP address 102.129.153.168 – proxy
---
Username dennismoore1
Email dennismoore103@gmail.com
Name Dennis Moore
Looking for Female
Age 56 y.o.
Country United States
City san diego
Here for Marriage
Marital status Widowed
Sexual Orientation Straight
Children I have 1-2 children living elsewhere
Ethnicity White
Religion Christian
Body Type Fit
Education Other
Occupation engineer
Description
love making friends
IP address 197.210.76.215 – Nigeria
---
Username collinsAshes
Email mensahcollins08@gmail.com
Name Collins Mensah
Looking for Female
Age 40 y.o.
Country United States
City Detroit
Here for Friendship, Romance, Serious Relationship, Marriage, Just Fun
Marital status Separated
Sexual Orientation Straight
Children I don't have children
Ethnicity Black
Religion Christian
Body Type Average
Education Some college
Occupation nursing
IP address 77.111.246.39 – proxy
---
Username Christopher0105
Email Christopherjohn9085@gmail.com
Name Christopher John
Looking for Female
Age 52 y.o.
Country United States
City Ohio
Here for Serious Relationship
Marital status Single
Sexual Orientation Straight
Children I have 3 or or more children living elsewhere
Ethnicity White
Religion Christian
Body Type Athletic
Education Masters Degree
Occupation Ask me
Description
I am a man of few words but welcome new friends, hate cheat just be who you are and not claiming to be what you are not. I believe in communications, very open-minded, and almost always positive. . I am just a simple man, kind, patient, understanding, easy-going, non-argumentative, not looking for sex, but very sensual and passionate with the lady I love. Well I am a gentlemen and I dont do drama. Live a healthy life style. I stay fit and in shape and I'm intelligent and responsible.
IP address 102.89.1.189 – Nigeria
This post was viewed 99 times