Username Christinelopez
Email Lopechristine1896@gmail.com
Name Christine Lopez
Looking for Female
Age 37 y.o.
Country France
City Troyes
Here for Romance
Marital status Divorced
Sexual Orientation Straight
Children I have 1-2 children living with me
Ethnicity Asian
Religion Muslim
Body Type Athletic
Education Masters Degree
Occupation shopping cinema
Description
I'm an honest heart that's looking for a stable relationship and i understand it is important to lay down lasting foundations for a lasting relationship and i would also like to find a like minded male where we can participate in activities together and encourage each other to pursue their interests as well because i'm not interested in games or drama.
IP address 160.154.151.115 – Ivory Coast
---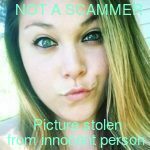 Username Sherrypiez
Email katenelson269@gmail.com
Name Kate Nelson, Sherry Piez
Age 40 y.o.
Here for Fun, Friendship, Romance, Serious Relationship, Marriage
Looking for Male
My match's age from 29 to 80
Location London, UK
Marital status widowed
Children no children
Sexual Orientation Straight
Ethnicity white
Religion Christian
Occupation Business woman
Description
Hello hello how are you I'm just joining this website now I'm in this dating site I don't know what to say on a simple person on easy going lady who wants to meet a guy as friends and then maybe more as time goes on I'll stop here for now then continue updating my profile as a move.
IP address 5.149.250.222 – proxy
---
Username Angie22
Email Walterangie8@gmail.com
Name Angie Walter
Looking for Male
Age 31 y.o.
Country United States
City Florida
Here for Serious Relationship
Marital status Single
Sexual Orientation Straight
Children I want children
Ethnicity White
Religion Christian
Body Type Slim
Education Student
Occupation Cloth store
Description
I'm Angie Walter by my name I'm single and looking for a serious relationship with a responsible man that will lead to marriage
IP address 102.89.3.102 – Nigeria
---
Username julianasarp
Email julianasarp04@gmail.com
Name Juliana Sarp
Looking for Male
Age 35 y.o.
Country United States
City California
Here for Friendship, Serious Relationship, Marriage
Marital status Single
Sexual Orientation Straight
Children I don't have children
Ethnicity Mixed
Religion Christian
Body Type Average
Education Bachelors Degree
Description
I am independent,loving, honest,caring, faithful woman who has my own busy life I am a woman of substance and presence, wise, open and kind, family is important to me,I am grounded and fun loving even though i had lost both parents when i was 4. I have the ability to create around me the life and the things that I want and the things in life we would want together… I want to continuously grow as a person with a strong man by my side to grow with me forever with real love… I would be happiest with an intelligent, sexy, educated,romantic, attractive man whom I can respect, admire, and adore… Intelligence with the ability to really have a conversation about something of substance is non-negotiable…dancing with, make me laugh, tell me the truth and I can make me feel like a real Queen!!
My Dad with my two lovely brother died on there way going to london for an occassion,,,so since they had died things have been so hard and tough with me and thats why am really looking for the right man who is gonna be there for me as a best friend and Lover…Infact i was just crying here now because its very painful to me, whenever i remember it.
IP address 68.235.32.253 – proxy
---
Username Honest24
Email honestkarine@gmail.com, Lovely143bae@gmail.com
Gender Female
Looking for Female
Age 84 y.o.
Country United States
City Alabama
Here for Serious Relationship
Marital status Single
Sexual Orientation Straight
Children I don't have children
Ethnicity Mixed
Religion Christian
Body Type Average
Education Some college
Occupation Hair dresser
Tel 406-313-4981
Description
I'm looking for someone I can trust with all my heart and soul. I'm just looking for real feelings. If we feel a connection between us..‪email me on Llovely143bae@gmail.com or text (406) 313-4981
IP address 45.95.98.195 – proxy
This post was viewed 201 times