Username catlite20
Email naomiloucathy@outlook.com
Name Naomi Lou Cathy
Age 35 y.o.
Here for Serious Relationship, Marriage
Looking for Male
My match's age from 45 to 85
Location North Ridgeville, OH, USA
Marital status single
Children no children
Sexual Orientation Bisexual
Ethnicity white
Religion Other
Occupation Yoga instructor
Description
I love to cook, read books, study something new,. I love nature, animals, to go out, work out in gym, i adore swimming and walking on the beach, bicycle, and spend time with my family and friends.Im looking for love, long relationship and marriage..I need a strong, supportive and kind man to share life together, make happier each other
IP address 67.162.192.97 – proxy
---
Username marthajkl
Email kmarthak273@gmail.com
Age 38 y.o.
Here for Serious Relationship, Marriage
Looking for Male
My match's age from 50 to 86
Location Akron, OH, USA
Marital status single
Children no children
Sexual Orientation Straight
Ethnicity white
Religion Christian
Description
am martha single with no kids
you can massage me on so we talk more share pic to get to know each other better ..massage me but frsit remove this //////////// k/m/a/r/t/h/a/k/2/7/3/@/g/m/a/i/l/./c/o/m/
IP address 75.185.170.244 – proxy
---
Username Mary345
Email moneysee342@gmail.com
Gender Female
Looking for Male
Age 26 y.o.
Country Canada
City now yrok
Here for Serious Relationship, Marriage
Marital status Single
Sexual Orientation Bisexual
Children I don't have children
Ethnicity Other
Religion Other
Body Type Athletic
Education Some college
Description
I am a single woman and never been married,My life is fantastic at the moment but there is one thing missing and that is a partner who is intelligent,sincere and honest.
I'm looking for an intelligent, reliable, responsible man, active optimist with a sense of humor, loving life, who ready to trust and take care of his woman.
IP address 147.135.36.175 – proxy
---
Username queen12bhg
Email queenoser55@gmail.com
Name Queen Oser
Looking for Male
Age 40 y.o.
Country United States
City PANORAMA CITY
Here for Serious Relationship
Marital status Single
Sexual Orientation Straight
Children I don't have children
Ethnicity Hispanic
Religion Spiritual
Body Type Few Extra Pounds
Education Bachelors Degree
Occupation trader
Description
I'm very open, it's easy to let people in to me. But when you'll know me better – you'll understand that I am a cheerful and gentle person. I am very sincere and sensual. I am serious and honest in my actions and in my choices. I don't wait that someone will do hard work for me. I feel very lucky to have supportive family behind me.
IP address 209.107.196.81 – proxy
– different picture on hangouts
---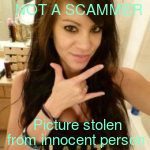 Username Irene09
Email smithwhitesandra@gmail.com, emeliabillson70@gmail.com, irenehill149@gmail.com
Name Smith White Sandra, Emelia Billson, Irene Hill
Looking for Male
Age 37 y.o.
Country United Kingdom
City Birmingham
Here for Romance, Marriage
Marital status Single
Sexual Orientation Straight
Children I don't have children
Ethnicity White
Religion Christian
Body Type Average
Education Bachelors Degree
Occupation Entrepreneur
Description
Single needs a real partner, irenehill149@gmail.com
IP address 154.160.11.237 – Ghana
---
More emails of scammers
angelawhight1@gmail.com
Anitamichelle156@gmail.com
olawunmiak5@gmail.com
sandraappiah556@gmail.com
natashadelphy@gmail.com
alicesmith20090@gmail.com
angedeone@gmail.com
francedetry2@gmail.com
This post was viewed 828 times