Username paloma200
Email palomabreadd@gmail.com
Name Paloma Bread
Looking for Male
Age 37 y.o.
Country United States
City carson,ca
Here for Friendship, Serious Relationship, Marriage
Marital status Single
Sexual Orientation Straight
Children I don't have children
Ethnicity Native American
Religion Christian
Body Type Average
Education Bachelors Degree
Occupation marketing
Description
am single, calm, kind, trusted and caring woman, seeking for a genuine man for friendship or relationship based on love
IP address 197.220.169.129 – Ghana
---
Username Hannaloda
Email Ericajane1947@gmail.com
Name Erica Jane
Looking for Male
Age 46 y.o.
Country United States
City Indiana
Here for Friendship, Romance, Serious Relationship, Marriage, Just Fun
Marital status Single
Sexual Orientation Straight
Children I don't have children
Ethnicity Mixed
Religion Jewish
Body Type Athletic
Education Some college
Occupation Hairdresser
Tel 260-589-6615
Description
I am single with no kids looking for something serious on here and hope to find my half soul mate here and maybe have a family with him if it works out for more inform of me just text me on (260) 589-6615
IP address 104.140.242.173 – proxy
---
Username hygets2g6
Email davieskim542@outlook.com
Name Davies Kim
Age 32 y.o.
Here for Friendship, Romance, Serious Relationship, Marriage
Looking for Male
My match's age from 45 to 86
Location Aberdeen, UK
Marital status single
Children no children
Sexual Orientation Straight
Ethnicity mixed
Religion Christian
Occupation Red Cross Nurse
Description
A relationship is ideal, but a lasting friendship is even more,so let us see how it progresses.
I am as "simple" as any woman can be. I love to have a great time with great people & share great news, knowledge, & as much laughter as I can share with everyone. There is a time for relaxing & a time for the occasional party or get-together; I've found I have to try more than most to relax. I love to learn & experience new things; you're never too old to try & learn new things.
IP address 90.94.246.133 – proxy
---
Username Bailadams
Email babeliciousdiva7@gmail.com
Gender Female
Looking for Male
Age 26 y.o.
Country United States
City North Carolina
Here for Friendship, Romance, Serious Relationship, Marriage
Marital status Single
Sexual Orientation Straight
Children I don't have children
Ethnicity Black
Religion Christian
Body Type Fit
Education Some college
Occupation Buying and selling
Description
I am Looking for the right man to share the rest of my life with, I want to be with a wonderful, loving, good hearted man and am willing to take my time to find the right one. I am a fabulous catch and looking for the same. I know who I am and am confortable in my skin and being myself. that's ok but just give me true love and never hurt me that is what I am looking for.
IP address 23.249.172.15 – proxy
---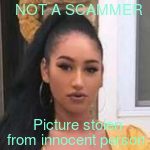 Username whitesuzzan343
Email whitesuzzan343@gmail.com
Name Suzzan White
Looking for Male
Age 35 y.o.
Country United States
City texas
Here for Serious Relationship
Marital status Single
Sexual Orientation Straight
Children I don't have children
Ethnicity White
Religion Christian
Body Type Slim
Education Other
Occupation head dreser
IP address 167.172.143.195 – proxy
---
More emails of scammers
ellosana1101@gmail.com
angeliancyrus@gmail.com
lolahanson22@gmail.com
mikew9386@gmail.com
sasavitale35@gmail.com
varona333g@gmail.com
Khalerrose9@gmail.com
This post was viewed 348 times