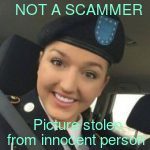 Username Andersonsskylar
Email frankchuks700@gmail.com
Name Andersons Skylar
Looking for Male
Age 29 y.o.
Country India
City new dahi
Here for Friendship, Romance, Serious Relationship, Marriage
Marital status Single
Sexual Orientation Straight
Children I don't have children
Ethnicity White
Religion Christian
Body Type Athletic
Education Masters Degree
Occupation military
Description
Am a soldier and hardworking lady, i love my life and i love to save peoples life ,i love to meet new friend and to make new friends
IP address 139.59.17.162 – proxy
---
Username hfghfghgfh
Email sweetdarling1k@gmail.com
Looking for Male
Age 35 y.o.
Country United States
City Arizona
Here for Serious Relationship, Marriage
Marital status Single
Sexual Orientation Straight
Children I don't have children
Ethnicity White
Religion Christian
Body Type Average
Education High School
Description
Wow sweetheart u are looking good and awesome….Wow sweetheart no problem i will make u happy more sweetheart and will talk more about sex sweetheart i am Candy by name and i am 32 years old and i can make u Happy more sweetheart wow i am happy for meeting u and can u add me on hangout Sweetdarling1k at gee mail dot com
IP address 41.211.8.221 – Ghana
---
Username Richlove13
Email am7798353@gmail.com
Looking for Male
Age 33 y.o.
Country United States
City London I
Here for Romance, Serious Relationship, Marriage
Marital status Single
Sexual Orientation Straight
Children I don't have children
Ethnicity White
Religion Christian
Body Type Average
Education PhD
Occupation Unemployed and
Description
m single looking for a serious and a honest relationship. Am just new here and if you are interested in me you can text me with you Gmail am going to reply there
IP address 154.160.1.129 – Ghana
---
Username hibiscuslady21
Email honeymoon2136@gmail.com
Looking for Male
Age 32 y.o.
Country United States
City Atlanta
Here for Serious Relationship
Marital status Single
Sexual Orientation Straight
Children I want children
Ethnicity White
Religion Christian
Body Type Slim
Education Bachelors Degree
Occupation sales and marketing
Description
I'm an intelligent person, witty with a goofy sense of humor. People take notice when I talk because I choose my words carefully and I don't just talk to hear my voice. I'm one of those people who can stay behind the scenes but then say a few words and have everyone on the floor laughing… I am easy going, caring, supportive, understanding, affectionate, love to learn and non-judgmental. I always try to be considerate to others and to help where I can.. I am full of energy and passion, mature in wisdom and young in spirit!. I enjoy holding hands and taking a walk on the beach, I also enjoy spending time with family,entertaining my home, reading, relaxing, cooking when I'm free to do. I have a strong personality and meaning,know what I want and what I not want. I believe in being open. I tell people what my opinion is when they ask and I'm also open to new things as long I enjoy it with the person I am with
IP address 107.150.23.217 – proxy
---
Username MettGraca
Email jlady4520@gmail.com
Gender Female
Looking for Male
Age 38 y.o.
Country United States
City New Jersey
Here for Friendship, Romance, Serious Relationship, Marriage, Just Fun
Marital status Single
Sexual Orientation Straight
Children I have 1-2 children living elsewhere
Ethnicity White
Religion Spiritual
Body Type Average
Education Some college
Occupation Shop Keeper
Description
I am an adult lady with an open heart and soul, I am ready to build a real couple. I have good age for this big event to start new life, happy life with an adult man who knows life and know how to care about his woman. I do not care about your style when you are my king then I will be your queen. I do not care your occupation cause together we can make something more! I am serious but at the same time I know how to enjoy life. I am full of love to give. I am full of warmth to share. I am full of kindness to present. Just take it.
IP address 5.252.68.51 – proxy
---
More emails of scammers
starlukaswilliam@gmail.com
nicolegavin370@gmail.com
yaocyn1993@gmail.com
Andersonlove026@gmail.com
withoutgod123@gmail.com
ashimorstevy@gmail.com
mimiyanney@gmail.com
retrte@yahoo.com
Alisonmercy121@gmail.com
This post was viewed 1097 times