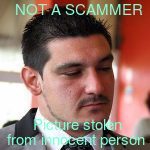 username: wright
name: Wright Lobo
email: wright1477@gmail.com
age: 46
location: Bratislava, Slovakia, or Egypt
ethnicity: hispanic
occupation: Information Technologist at NATO base
marital status: single
IP address: 5.254.65.239
description:
My self-introduction
I'M Caring,Faithful,Loyal,Truthful,Loving,Generous,Goals Achiever,Honest,Spiritual oriented,Future driven,Confidential,Understands the ups and downs of life,Committed to relationship,Reader, Visionary,Conservative,Passionate,Romantic,sexy and loving.. I'm a good cook.
I'm seeking a serious long term relationship and more. Someone who is responsible, respectful, can take care of themselves, and who is employed.special to capture my heart and knows how to handle it with care, one who will cherish me and be willing to share life's greatest joys and sorrows.
message: –
WHY IS IT A SCAM / FAKE:
IP is a proxy
IP doesn't correspond location
Profile description is widely used in scams
Registered on different sites with different details
This post was viewed 1450 times