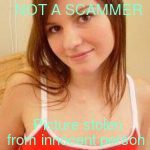 username: Marybrace941
name: Mary Brace
email: lauraandrew941@gmail.com
alternative name: Laura Andrew
age: 23
location: New York city, United States
ethnicity: white
occupation: Sales representative
marital status: single
IP address: 139.59.135.164
description:
I like to meet an handsome and caring guy.
I am laid back, respectful, understanding, a great listener and not out for just myself. I like to give more than I like to receive but I don't expect more than honesty and faithfulness. I think communication, trust, and honesty are a must in any relationship, whether it be friends or more. I enjoy going out to dinner/movie as well as staying indoors with that special someone. I enjoy a walk in the park, a nice picnic, watching the sunset, etc. I enjoy the small things in life. I have a good sense of humor, very attentive, and love to laugh and have fun.
I look at internet dating as a way to introduce ourselves. I think getting to know someone should be done face-to-face. For me there's less pressure to meet someone I haven't built up in my head over several emails.
message: –
WHY IS IT A SCAM / FAKE:
IP is a proxy
IP doesn't correspond location
Pictures are stolen from a known source
Pictures are widely used in scams
Profile description is widely used in scams
Also see here:
https://www.romancescam.com/forum/viewtopic.php?f=1&t=83260
This post was viewed 2155 times