Username Marioking
Email Marioking288@gmail.com
Name Mario King
Looking for Female
Age 43 y.o.
Country United States
City San Francisco
Here for Marriage
Marital status Widowed
Sexual Orientation Straight
Children I have 1-2 children living with me
Ethnicity Mixed
Religion Christian
Body Type Fit
Education Other
Occupation US Marine Corps
Description
I'm a good and caring man
IP address 197.211.61.149 – Nigeria
---
Username Rupertones
Email generalrupertjones12@gmail.com
Name Rupert Jones
Looking for Female, Both
Age 62 y.o.
Country Canada
City abidjan
Here for Serious Relationship, Marriage
Marital status Divorced
Sexual Orientation Straight
Children I have 1-2 children living elsewhere
Ethnicity Other
Religion Other
Body Type Athletic
Education Other
Occupation General
Description
am good i nood good ones to friend
IP address 196.182.110.164 – Ivory Coast
---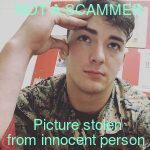 Username Barry2
Email barryburnet171@gmail.com
Name Barry Burnet
Looking for Female
Age 33 y.o.
Country United States
City Texas
Here for Serious Relationship, Marriage
Marital status Divorced
Sexual Orientation Straight
Children I have 1-2 children living with me
Ethnicity White
Religion Christian
Body Type Fit
Education Other
Occupation Millitary
Description
Am simple and fun to be with
IP address 159.203.182.184 – proxy
---
Username willy0147
Email williamhartel0147@gmail.com
Name William Hartel
Looking for Female
Age 54 y.o.
Country United states
City Phoenix
Here for Serious Relationship
Marital status Widowed
Sexual Orientation Straight
Children I don't have children
Ethnicity White
Religion Christian
Body Type Athletic
Education Bachelors Degree
Occupation Interior designer
Description
I am a fun loving man, down to earth, have lots of interests and hope to find someone to share life with. I hope to meet someone who compliments my life and I hope to compliment theirs too. To dream and scene together that's my ideal. I know she is out there somewhere of course we have to meet to see if there is a spark, that's what makes things come together naturally. I would consider myself to be reasonably open minded, I'm trustworthy and honest, hardworking and cant wait to meet that special woman and I am romantic and really enjoy a nice quiet dinner over a bottle of Pinot Nior wine and nice music. I like going to see live bands or shows.. I love a good laugh and try and find the funny side of things everyday…I am a happy man and always the optimist and I enjoy waking up everyday and look forward to what the day may bring loves to be outside either running or walking along the beach, but also enjoy being cozied up on the couch with a good book or a movie.
IP address 197.210.28.56 – Nigeria
---
Username jeffreynickels
Email nickelsjeffrey99@gmail.com
Name Jeffrey Nickels, John Nickels
Looking for Female
Age 36 y.o.
Country United States
City Dallas
Here for Marriage
Marital status Divorced
Sexual Orientation Straight
Children I have 1-2 children living with me
Ethnicity White
Religion Christian
Body Type Average
Education Masters Degree
Occupation military
IP address 207.189.25.62 – proxy
This post was viewed 1457 times