Username Claraess
Email essandohclara@gmail.com
Name Clara Essandoh
Looking for Male
Age 34 y.o.
Country Austria
City Vienna
Here for Serious Relationship, Marriage
Join Date 06/08/2020
More About Me
Marital status Single
Sexual Orientation Straight
Children I don't have children
Ethnicity Other
Religion Christian
Body Type Average
Education Some college
IP address 104.238.44.24 – proxy
---
Username gracegracy
Email gracegracy147@gmail.com
Name Grace Gracy
Looking for Male
Age 33 y.o.
Country United States
City Bluefield
Here for Friendship, Serious Relationship, Marriage
Marital status Separated
Sexual Orientation Straight
Children I don't have children
Ethnicity White
Religion Christian
Body Type Average
Education Some college
Occupation Trader
Description
Hi, like to get to know more about me mail me gracegracy147@gmail . com
IP address 162.243.45.53 – proxy
---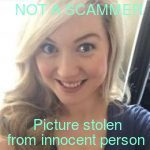 Username Sopnanny663
Email sophiananny663@gmail.com
Name Sophia Nanny
Looking for Male
Age 27 y.o.
Country United States
City Peoria
Here for Marriage
Marital status Single
Sexual Orientation Straight
Children I don't have children
Ethnicity Native American
Religion Christian
Body Type Fit
Education Some college
Occupation Sales rep
Description
Personal Description Thank God for live
IP address 197.210.47.162 – Nigeria
---
Username commeybenedicta
Email commeybenedicta@gmail.com
Name Commey Benedicta
Looking for Male
Age 36 y.o.
Country United States
City California
Here for Serious Relationship
Marital status Single
Sexual Orientation Homosexual
Children I want children
Ethnicity Other
Religion Christian
Body Type Fit
Education Some college
Occupation I am looking for a kind, responsible and honest man.
Description
hello handsome how are you doing today my name is commey bendicta please i am new here and i am single please I're about us there add me at there m seeking a serious long term relationship and more. add me at hangout so that we will know mocommeybendicta@gmail.com
IP address 197.251.185.97 – Ghana
---
Username vania
Email vaniagdavis@gmail.com
Name Vania Davis
Looking for Male
Age 32 y.o.
Country United States
City Chicago
Here for Serious Relationship, Marriage
Marital status Single
Sexual Orientation Straight
Children I don't have children
Ethnicity White
Religion Christian
Body Type Slim
Education Some college
Occupation Self employed
Description
I'm a high spirited person. Most would say, my heart is my greatest attribute. I love life and believe that kindness is the greatest gift that we can give to each other. I have a very adventurous spirit. I love boating, hiking, camping and romance!! You can take me dancing, I can't guarantee that toes will appreciate it, but I can guarantee that we will have a fabulous time trying!
IP address 99.203.201.54 – proxy
---
More emails of scammers
Jdosset1@gmail.com
leanzarose66@gmail.com
helenraymonde77@gmail.com
julianfranklin37@gmail.com
marymark6789@gmail.com
handiangel57@gmail.com
stickelldaisy19@gmail.com
This post was viewed 149 times