Username kathyraphael
Email avakathy12@gmail.com
Name Kathy Raphael
Looking for Male
Age 30 y.o.
Country United States
City new jersey
Here for Serious Relationship
Marital status Single
Sexual Orientation Straight
Children I don't have children
Ethnicity White
Religion Christian
Body Type Average
Education High School
IP address 193.176.87.214 – proxy
---
Username elodiechirak
Email elodiechirak16@gmail.com
Name Elodie Chirak
Looking for Male
Age 26 y.o.
Country Belgium
City tourmais
Here for Romance, Serious Relationship, Marriage
Marital status Divorced
Sexual Orientation Straight
Children I don't have children
Ethnicity White
Religion Other
Body Type Athletic
Education Other
Occupation waitress
Description
I am a soft woman reliable commprehensive who recheche man
IP address 41.207.197.153 – Ivory Coast
---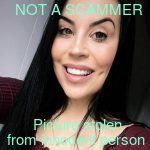 Username Lomotey3
Email genevitey32@gmail.com
Looking for Male
Age 35 y.o.
Country United States
City 75019
Here for Friendship, Romance
Marital status Single
Sexual Orientation Straight
Children I don't have children
Ethnicity Native American
Religion Christian
Body Type Average
Education Bachelors Degree
Occupation Teacher
Description
I have a calm personality and I love to visit beautiful places like the beach to feel the same breeze. I love read books and cook as well.
IP address 209.107.216.96 – proxy
---
Username danielle69
Email kateben61@gmail.com
Looking for Male
Age 25 y.o.
Country United States
City new york
Here for Serious Relationship
Marital status Single
Sexual Orientation Straight
Children I don't have children
Ethnicity White
Religion Christian
Body Type Fit
Education Bachelors Degree
Occupation self employed
Description
am cool and gentle also caring
IP address 196.52.2.34 – proxy
---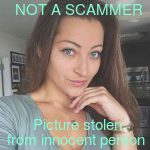 Username Ashelybrown
Email Ashelybrown492@gmail.com
Name Ashley Brown
Looking for Male
Age 37 y.o.
Country United Kingdom
City Bristol
Here for Serious Relationship
Marital status Single
Sexual Orientation Straight
Children I don't have children
Ethnicity White
Religion Christian
Body Type Average
Education Some college
Occupation united states
Description
I am Ashley brown from Boston Canton and i am looking for my soul mate and have a nice family with. And live happily ever after
IP address 161.129.70.74 – proxy
---
More emails of scammers
kblann300@gmail.com
airehmih6@gmail.com
howiyir614@enmail1.com
pattyhoroho1@gmail.com
inusah2314@gmail.com
Lucianaabbasova1@gmail.com
Fu547886@gmail.com
femijacobs005@gmail.com
This post was viewed 245 times