Username danijoe41
Email danijoe41@gmail.com
Name Dani Joe
Looking for Male, Female, Both
Age 37 y.o.
Country United States
City All
Here for Friendship, Serious Relationship, Marriage
Marital status Single
Sexual Orientation Straight
Children I have 1-2 children living with me
Ethnicity White
Religion Christian
Occupation Hiarstyler
Description
I am an honest and good christian who loves being surrounded by family, friends and holidays. I am ready for a serious relationship and I really look forward to starting that with the right person. I am an honest, loyal, passionate, generous, giving, affectionate, sexual, supportive, sensitive, and a good listener who is easy to get along with. I am outgoing and very spontaneous.
IP address 154.160.5.4 – Ghana
---
Username felicity76
Email alwaysheart987654321@gmail.com
Gender Female
Looking for Male
Age 30 y.o.
Country United Kingdom
City bedford
Here for Serious Relationship
Marital status Single
Sexual Orientation Straight
Children I don't have children
Ethnicity White
Religion Christian
Body Type Average
Education High School
Occupation teacher
Description
I am not a perfect woman, but I can be more than ideal one for your heart. My parents raised me very conservative, maybe that's why I am still alone. I have strong family values that people nowadays seem to ignore. I am here to find a man to create my own family with. I know how to make it happen! You want to know how? Write to me, and I will tell you my secret.
IP address 194.35.233.89 – proxy
---
Username Fabiolamasse
Email fabiolamasse44@gmail.com
Name Fabiola Masse
Looking for Male
Age 35 y.o.
Country France
City Nice
Here for Serious Relationship
Marital status Single
Sexual Orientation Bisexual
Children I don't have children
Ethnicity Other
Religion Christian
Body Type Athletic
Education Other
Occupation AIde des personnes agées
Description
Cool,sympathique,calme,souriante,douce,tendre
IP address 41.66.45.104 – Ivory Coast
---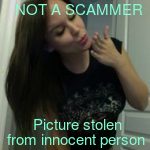 Username Rita1997
Email Monaj1638@gmail.com, Ritarain1997@gmail.com
Gender Female
Looking for Male
Age 32 y.o.
Country United Kingdom
City London
Here for Serious Relationship
Marital status Separated
Sexual Orientation Straight
Children I don't have children
Ethnicity Native American
Religion Christian
Body Type Slim
Education Some college
Occupation Self employment
Description
I am a honest heart looking for a serious relationship… Text me on Hangouts if interested Ritarain1997@gmail.com
IP address 107.150.30.108 – proxy
---
Username elissa
Email eliissaj@yahoo.com
Looking for Male
Age 40 y.o.
Country United States
City Miami Beach
Here for Serious Relationship
Marital status Single
Sexual Orientation Straight
Children I don't have children
Ethnicity White
Religion Christian
Body Type Average
Education Masters Degree
Occupation self employed
Description
I am new here looking for a honest and caring man
IP address 173.44.36.156 – proxy
This post was viewed 421 times