Username marylove123
Email mmaryaddona@gmail.com
Name Mary Addona
Looking for Male
Age 37 y.o.
Country Germany
City frankfurt
Here for Serious Relationship
Marital status Single
Sexual Orientation Straight
Children I don't have children
Ethnicity White
Religion Christian
Body Type Average
Education Masters Degree
Occupation Nurse
Description
well talking about who i am that easy going type, adventurous, ambitious and have a very good sense of humor.. My favorite movies are romantic movies, eating habits just about anything. I don't have any kids, I don't smoke or drink alcohol am that type of person who always try to make people laugh.
IP address 185.189.112.80 – proxy
---
Username lovehome2000
Email lucasnicole772@gmail.com
Name Lucas Nicole
Looking for Male
Age 37 y.o.
Country United States
City New York
Here for Serious Relationship
Marital status Single
Sexual Orientation Straight
Children I don't have children
Ethnicity White
Religion Christian
Body Type Average
Education Other
Occupation Manager
Description
How are you doing, this message might surprise you because we do not know each other very well because this my first communication with you, am push to share with you because of the urgency of what my company need, I'm Nicole Lucas, an INT'L RESEARCH MANAGER working at NORMONZ PHARMACEUTICAL COMPANY UK, please i need dealer of this product, my company need a supplier of Apetzine Liquid Oil and the are purchasing in large Quantity,It's a product my company use to produce medicine, can you stand as the dealer and receive my company there in your country, if you interested i will guide you on how to follow up with my company and stand as a dealer of the product, if you stand as dealer and my company purchase from you as the dealer, we will share the profit that why am offering to you stand as local dealer and receive my company,if you can handle it, please email now because my company need it urgently, please write directly for full detail.
lucasnicole772@gmail.com
IP address 159.89.33.64 – proxy
---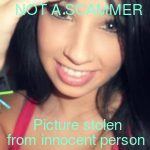 Username Jessi
Email pauloenriqueleonruiz@gmail.com
Looking for Male
Age 20 y.o.
Country Cuba
City Holguín
Here for Romance
Marital status Single
Sexual Orientation Straight
Children I don't have children
Ethnicity White
Religion Other
Body Type Average
Education High School
Occupation student
IP address 104.237.147.54 – proxy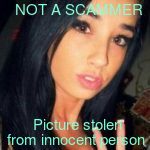 ---
Username patiencegani
Email jc693894@gmail.com
Name Patience Gani
Looking for Both
Age 46 y.o.
Country United States
City carolina
Here for Serious Relationship
Marital status Divorced
Sexual Orientation Straight
Children I don't have children
Ethnicity White
Religion Christian
Body Type Average
Education Other
Occupation military
IP address 197.211.35.28 – Nigeria
---
Username Happiness322
Email angeltreasure4love@gmail.com
Looking for Male
Age 29 y.o.
Country United States
City Lima
Here for Romance, Serious Relationship, Marriage
Marital status Single
Sexual Orientation Straight
Children I don't have children
Ethnicity Native American
Religion Christian
Body Type Average
Education Bachelors Degree
Occupation sales
Tel 515-523-7517
Description
y Dear,how are you doing today? i really like your profile and i love your smile,well i am new to this site. it was a friend of my who got married last month that introduced me to this site because she meet with her husband here and i am given it a try to see if i will have luck as well.so i will like to get know more about you because you Look so nice and kewl.to me distance and age does not matter because i don't believe on that. i believe that if you care for some one you can go on and make him or her happy so i will like to talk to you and get to know you more better and see if things can go well for us.and if you care to chat you can text me at 5155237517 or at hangout angeltreasure4love@gmail.com because i don't get online much on here. i am waiting to hear from you.have a nice day…..Maryjane
IP address 89.187.178.172 – proxy
This post was viewed 350 times