Username Morins
Email stevenmorin056@gmail.com
Name Steven Morin
Looking for Female
Age 56 y.o.
Country United States
City Denton
Here for Serious Relationship
Marital status Divorced
Sexual Orientation Straight
Children I want children
Ethnicity White
Religion Christian
Body Type Average
Education PhD
Occupation Petroleum engineer
Description
I am looking for an elusive soulmate. I haven't given up on the possibility of being happy with someone. For a variety of reasons, I haven't found her yet. But I know I have a lot to give to the right person and feel the time is right for me
IP address 197.211.61.109 – Nigeria
---
Username Harrison
Email goodbasegeneral1@gmail.com
Age 50 y.o.
Here for Serious Relationship
Looking for Female
My match's age from 35 to 80
Location Singapore
Marital status divorced
Children 1-2 living elsewhere
Sexual Orientation Straight
Ethnicity white
Religion Christian
Occupation Army
IP address 171.22.76.82 – proxy
---
Username Th8gm45
Email thomaslamers58@gmail.com
Name Thomas Lamers
Age 57 y.o.
Here for Serious Relationship, Marriage
Looking for Female
My match's age from 55 to 75
Location Houston, TX, USA
Marital status divorced
Children 1-2 living elsewhere
Sexual Orientation Straight
Ethnicity white
Religion Christian
Tel 832-461-0423
IP address 107.15.68.191
---
Username Jeff000
Email jeffsonduke5@gmail.com
Name Jeffson Duke
Age 54 y.o.
Here for Serious Relationship, Marriage
Looking for Female
My match's age from 49 to 79
Location Ohio City, Cleveland, OH, USA
Marital status widowed
Children no children
Sexual Orientation Straight
Ethnicity white
Religion Muslim
Description
I am honest, easy-going, young at heart and positive with a good sense of humor. I am a good listener and I like to have interesting honest conversations. I am active and I like to try new things . I also believe in love and I want to give all of me to my soul mate. I am giving and family-oriented man. I love to develop myself in different areas and I would like to grow together with my woman. I am here with very serious intentions and I really want to meet my dear woman soon. I miss love and romance in my life very much. I have lots of unused love energy inside me and I dream to give it all to my partner. I want to have open and trusting relationship full of understanding and honesty. I am very faithful and I am going to do my best for my lady to feel my love and care every minute of our lives.
IP address 194.32.230.49 – proxy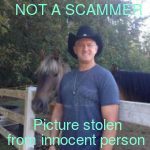 ---
Username carlwilliam
Email carlwilliam604@gmail.com
Name Carl William
Looking for Male
Age 52 y.o.
Country United States
City San Juan Capistrano
Here for Serious Relationship
Marital status Widowed
Sexual Orientation Straight
Children I don't want children
Ethnicity Native American
Religion Spiritual
Body Type Average
Education High School
Tel 601-647-5929
Description
I'm a big dad, I have a daughter. I am very kind, loving, caring, romantic, hard-working, I have a good sense of humor, Light, Outgoing, Passionate, Honest, Responsible, to the earth, full of life, free energetic. I love to smile and never get angry. I'm creative, and I never play mind games. I love romantic nights, but skipping this part for quite some time, food, to a large extent in that order. The ability to laugh is one of the best ways to cope with the rough spots of life, and it will not hurt in good times! An adventurous spirit prompts me to answer the challenges of being the one with whom I am today, which makes me look for new experiences in traveling, sightseeing and in general fun. I love cooking and I think I'm good at it. Journey, swimming, candlelit dinners, films, beach walks, sunshine, camping, reading and getting to know new people, dancing and listening to all kinds of music … I love to do sports, outdoors and dine in the magnificent restaurants. I can be your best friend with family val??and a cheerful look at life with a positive attitude. Contents of my work. I live in a healthy way of life, just asking. I usually let you decide what it will be I a
good friend, listener, loyal, hardworking, brutally honest. I express my true feelings, and I do not judge people's actions
IP address 41.218.220.124 – Ghana
---
This post was viewed 280 times