Username Garicah7
Email garciamichaelm967@gmail.com
Name Garcia Michael
Looking for Female
Age 48 y.o.
Country Norway
City osil
Here for Serious Relationship
Marital status Single
Sexual Orientation Straight
Children I have 1-2 children living elsewhere
Ethnicity White
Religion Christian
Body Type Average
Education Some college
Occupation Army
IP address 154.160.24.39 – Ghana
---
Username Travislove007
Email travcomstock73@gmail.com
Name Travis Comstock
Age 50 y.o.
Here for Friendship, Serious Relationship, Marriage
Looking for Female
My match's age from 45 to 65
Location Saskatoon, SK, Canada
Marital status widowed
Children 1-2 living elsewhere
Sexual Orientation Straight
Ethnicity white
Religion Christian
Occupation Engineer
Description
I do not think much will be said here. Anyways I am a caring, honest and kind man. One who likes to make others happy and always likes to smile and stay positive. My goal is I did like to be like the old folks we see around madly in love with each other after decades of marriage.
IP address 130.64.25.62 – proxy
---
Username Davy185
Email browndavy67@gmail.com
Name Brown Davy
Age 53 y.o.
Here for Friendship, Romance, Serious Relationship, Marriage
Looking for Male
My match's age from 40 to 65
Location Medford, MA, USA
Marital status divorced
Children 1-2 living with me
Sexual Orientation Straight
Ethnicity mixed
Religion Christian
Occupation Executive Management
Description
I always live life to its absolute fullest and strive to cherish each moment. I always enjoy cracking people up and also like people with good humor.
IP address 174.2.161.233 – proxy
---
Username Vince055
Email vincecook050505@gmail.com
Name Vince Cook
Looking for Both
Age 65 y.o.
Country United Arab Emirates
City Fujairah
Here for Serious Relationship
Marital status Widowed
Sexual Orientation Straight
Children I have 1-2 children living with me
Ethnicity White
Religion Christian
Body Type Fit
Education Masters Degree
Occupation Bank
IP address 77.111.247.88 – proxy
---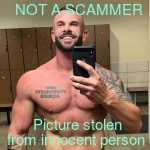 Username BillHarper247
Email justforbanter247@gmail.com
Name Bill Harper
Looking for Female
Age 30 y.o.
Country United States
City California
Here for Serious Relationship
Marital status Widowed
Sexual Orientation Straight
Children I have 1-2 children living elsewhere
Ethnicity White
Religion Christian
Body Type Average
Education Bachelors Degree
Occupation military
Description
My name is Bill, Bill Harper
Current in the military and I love what I'm doing, serving my nation
IP address 209.95.34.77 – proxy
---
More emails of scammers
barr.iminpao.un@gmail.com
aicharihanna@gmail.com
akariemelia4@gmail.com
frankieflow82@gmail.com
johnnyfeavelen07@gmail.com
ariannalizarraga308@gmail.com
johnfeltonelvis@gmail.com
gilbertmc111@gmail.com
mywillonline500@gmail.com
jjrosati12@gmail.com
jerrywilliams39303781@gmail.com
bossrussell59@gmail.com
This post was viewed 395 times