Username Michellesmallz
Email Michellesmallz588@gmail.com
Name Michelle Smallz
Looking for Male
Age 32 y.o.
Country Bahamas
City Nassau
Here for Serious Relationship
Marital status Single
Sexual Orientation Straight
Children I don't have children
Ethnicity Black
Religion Christian
Body Type Average
Education Some college
Occupation Business
Description
I'm single intellectual sound honesty passionate
IP address 105.112.11.247 – Nigeria
---
Username diannaschmidt40
Email dianaschmidt71@outlook.com
Name Dianna Schmidt
Looking for Male
Age 45 y.o.
Country Denmark
City copenhagen
Here for Serious Relationship
Marital status Widowed
Sexual Orientation Straight
Children I have 1-2 children living with me
Ethnicity White
Religion Christian
Body Type Average
Education PhD
Occupation easy going woman with pure heart
Description
Personal Description Am looking for honest and caring man to start a new life with
IP address 82.103.128.151 – proxy
---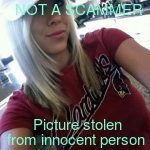 Username HaywardHearty
Email haywardallison2019@gmail.com
Name Hayward Allison
Looking for Male, Female, Both
Age 26 y.o.
Country United States
City San Antonio
Here for Friendship, Just Fun
Marital status Single
Sexual Orientation Straight
Children I don't have children
Ethnicity White
Religion Other
Body Type Average
Education Some college
Occupation Consultant
Description
Personal Description Smiling and sometimes serious… I have a sense of humor and always help people who asks me to. I love to communicate, that's why I have many friends. I lead active life and I am full of energy. I do not like being lazy. Why to waste time if there so many things to try and to enjoy? or to experience? I really enjoy cooking and taking care of my house, to spend time in nature, with my friends. I hope that soon I will meet a man with whom we will be one whole. I'm here with truth and honest intentions, hope you too.
IP address 66.165.246.214 – proxy
---
Username faustina112
Email faustinarose26@gmail.com, dianalizzy3@gmail.com
Name Faustina Rose, Diana Lizzy
Looking for Male
Age 28 y.o.
Country United States
City florida
Here for Serious Relationship
Marital status Single
Sexual Orientation Straight
Children I don't have children
Ethnicity White
Religion Christian
Body Type Fit
Education Student
Tel 401-285-3409
Description
want guy who will love and trust me and take good care of me
IP address 154.160.18.240 – Ghana
---
Username pricy11
Email pricillahamilton46@gmail.com, Triciaalvarez66@gmail.com
Name Pricilla Hamilton, Tricia Alvarez
Looking for Male
Age 39 y.o.
Country United Kingdom
City london
Here for Friendship, Romance, Serious Relationship, Marriage
Marital status Single
Sexual Orientation Straight
Children I don't have children
Ethnicity Other
Religion Other
Body Type Average
Education Some college
Occupation self employer
Tel 419-540-1743
IP address 84.17.50.169 – proxy
---
More emails and phone numbers of scammers
Jessicaweeden2018@gmail.com
433-347-3910
Kathleenwilliams924@gmail.com
ortegaluiscrespoe@yahoo.com
cotpauline30@gmail.com
Cheloannabelledaniella@gmail.com
reanasweet85@gmail.com
Robinsonhailey935@gmail.com
mayormatins@gmail.com
akb23578853@aol.com
michaelasiedu223@gmail.com
Rosemiguel4ever@gmail.com
cherimalkova@gmail.com
This post was viewed 592 times