Username sweetrose37
Email jenniferrudson484@gmail.com
Name Jennifer Rudson
Looking for Male
Age 37 y.o.
Country Australia
City Brisbane
Here for Serious Relationship, Marriage
Marital status Single
Sexual Orientation Straight
Children I have 1-2 children living elsewhere
Ethnicity Mixed
Religion Christian
Body Type Athletic
Education Masters Degree
Occupation Sales Assistant
Description
( jenniferrudson 484 gee male ) I am a woman who looks beyond what may be the obvious. Character is worth more than flashiness. I am a woman who appreciates honesty and a great sense of humor. I love to laugh and to enjoy the simple things in life. I like camping, fishing, cycling, biking, movies, golf, all kinds of sports. I like the indoors too but I'm mostly an outdoorsy, i also like the city life.
IP address 209.95.58.177 – proxy
---
Username sebriankissu
Email jovitakumi.13@hotmail.com, sebrinajean082@gmail.com
Name Sebrina Jean
Looking for Male
Age 44 y.o.
Country United States
City new mexico
Here for Serious Relationship
Marital status Widowed
Sexual Orientation Straight
Children I don't have children
Ethnicity White
Religion Christian
Body Type Average
Education PhD
Occupation banker
Description
I am a sincere and honest woman i like to have fun,i have strong moral values with honesty and integrity being the core of my personality, meet new people and do new things. life is short i value friendship, intimacy and i believe respect is one of the most important requirement
IP address 139.59.17.131 – proxy
---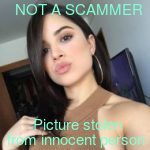 Username dianamoor45688
Email dianamoore45688@gmail.com
Name Diana Moore
Looking for Male
Age 29 y.o.
Country United Kingdom
City london
Here for Serious Relationship
Marital status Single
Sexual Orientation Straight
Children I don't have children
Ethnicity White
Religion Other
Body Type Slim
Education Student
IP address 154.160.7.199 – Ghana
---
Username sandriamo
Email sandrinemenier39@gmail.com, celine222244@gmail.com
Name Sandrine Menier
Looking for Male
Age 39 y.o.
Country France
City Arras
Here for Serious Relationship, Marriage
Marital status Single
Sexual Orientation Straight
Children I want children
Ethnicity White
Religion Christian
Body Type Average
Education Student
Occupation serveuse
Tel 938-238-1680, 828-539-1003
Description
je suis une femme joviale , ouverte , sympa , j'ai de nouvelles découverte, j'adore la musique , la cuisine , le sport , et la vie de famille
IP address 154.13.83.48 – proxy
---
Username Lauraadriana
Email lauraadrianashipler@gmail.com
Name Laura Adriana Shipler
Looking for Male
Age 30 y.o.
Country United States
City Kingman Arizona
Here for Serious Relationship, Marriage
Marital status Single
Sexual Orientation Straight
Children I don't have children
Ethnicity White
Religion Christian
Body Type Average
Education Some college
Occupation Nil
Description
I'm an average lady who's kind, caring and God fearing
IP address 105.112.61.219 – Nigeria
---
More emails and phone numbers of scammers
humiidon55@gmail.com
Avalossteven402@gmail.com
abdullahonlinefinance@gmail.com
twumwaajuliet20@gmail.com
partlove120@gmail.com
pluscee12345@gmail.com
jamesbragg999@gmail.com
angelamich69@gmail.com
772-766-7633
seekingsoul51@gmail.com
774-310-1018
bahdbae300@gmail.com
408-909-1520
lovelywaleed85@gmail.com
700-500-2074
sweetirene100@gmail.com
201-580-5257
sweetrashida101@gmail.com
202-459-9087
caringwoman04@gmail.com
530-435-5413
872-215-3872
This post was viewed 539 times