Username joyceblessing
Email bjoyce985@gmail.com
Name Joyce Blessing
Looking for Male
Age 32 y.o.
Country United States
City texas
Here for Serious Relationship, Marriage
Marital status Single
Sexual Orientation Straight
Children I don't have children
Ethnicity Mixed
Religion Christian
Body Type Average
Education PhD
Occupation am looking for my soul mate no jokes
Description
Am not here for games or to play around and expect the same from you and also I want you to be upfront and honest with me so that we will not be wasting anyone's time here and most important get to know more about each other and see where this will lead us to
IP address 41.218.208.153 – Ghana
---
Username Guendilibe
Email joelrevelation.50@gmail.com
Looking for Male
Age 25 y.o.
Country United States
City South Chicago heights
Here for Friendship, Romance, Serious Relationship, Just Fun
Marital status Single
Sexual Orientation Straight
Children I don't have children
Ethnicity White
Religion Atheist
Body Type Slim
Education Student
Occupation Student
Description
Very simple caring and really love to have fun
IP address 41.204.44.139 – Ghana
---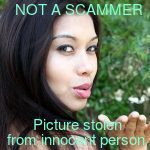 Username naughtygirlflog
Email naughtygirlflogging@gmail.com, sadatgibril4@gmail.com, Empressgladys456@gmail.com, klobpetites32@gmail.com
Name Sadat Gibril, Gladys
Looking for Male, Female, Both
Age 30 y.o.
Country Cuba
City Varadero
Here for Friendship, Romance, Serious Relationship, Marriage
Marital status Divorced
Sexual Orientation Straight
Children I want children
Ethnicity Native American
Religion Christian
Body Type Slim
Education Other
Occupation artist
Tel +233249871278, 813-815-4923
Description
I am a good, well-mannered girl who appreciates family traditions, I like to cook, I love to travel, I love animals and children!
I am looking for an attentive, loving and beloved man, caring, generous, gentle, successful man. It is important for me when a man shows his attention, gives flowers, gifts, beautifully cares. I do not believe the words, I prefer to see the action, and then the words! I would like him to be tall and of normal physique (not well-fed, i like sport body) with whom we can build our world! Our strong happy family in which we will have 2-3 children! If I were asked what I would like to receive as a gift, I would clearly answer that I really want to have my own car in which I will carry my future children to kindergarten and my own apartment in which I can live with my future beloved man and build our joint match -happy life together! I'm not looking for meetings for one night and communication for friendship! I'm looking for a serious relationship!
IP address 41.58.251.229 – Nigeria, 41.215.171.138 – Ghana
---
Username Stacey894
Email lovellydog894@gmail.com, berlindahalm@gmail.com, bella30026@gmail.com
Name Berlinda Halm
Looking for Male
Age 32 y.o.
Country United States
City USA
Here for Serious Relationship
Marital status Single
Sexual Orientation Straight
Children I don't have children
Ethnicity White
Religion Christian
Body Type Average
Education Masters Degree
Occupation Nursing Student
Tel 507-400-1056, 551-257-6628
Description
I am a girl looking for a long term relationship with a real man. I am Honest,Loving,Caring,Faithfully and Trustworthy .
IP address 74.82.60.88 – proxy
---
Username beckywhite
Email beluxury85@gmail.com
Name Becky White
Looking for Male
Age 35 y.o.
Country United States
City New york city
Here for Serious Relationship
Marital status Single
Sexual Orientation Homosexual
Children I don't have children
Ethnicity White
Religion Christian
Body Type Fit
Education PhD
Occupation Self employed
IP address 41.215.171.44 – Ghana
This post was viewed 363 times