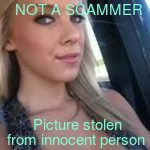 Username gladys33
Email amohgladys44@gmail.com
Name Gladys Amoh
Looking for Male
Age 33 y.o.
Country United States
City Los Angeles
Here for Serious Relationship
Marital status Single
Sexual Orientation Straight
Children I don't have children
Ethnicity Other
Religion Other
Body Type Average
Education Other
Occupation trader
Description
Gladys by name and am 35 of age and am seeking for serious and long term relationship
I am an open and purposeful lady. I do not like to sit on one place; I'm always open to new people and beginnings. I am a cheerful woman. I have a calm disposition, but also I always achieve my goals. I know what I want from life, and I never stop on a half way. But also sometimes I can be a shy girl with a timid heart.
IP address 185.180.198.66 – proxy
---
Username Grace100
Email gracemccreary099@gmail.com
Name Grace Mccreary
Age 33 y.o.
Here for Fun, Romance, Marriage
Looking for Male
My match's age from 19 to 86
Location
City New York, United States
Marital status single
Children no children
Sexual Orientation Straight
Ethnicity white
Religion Atheist
Description
Am a very good lovely and caring woman
IP address 103.21.224.93 – proxy
---
Username empressella
Email empressella29@gmail.com, lindabenyin880@gmail.com
Name Linda Benyin
Looking for Male, Female, Both
Age 28 y.o.
Country United States
City new york
Here for Friendship, Serious Relationship, Marriage
Marital status Single
Sexual Orientation Straight
Children I don't have children
Ethnicity White
Religion Christian
Body Type Fit
Education Bachelors Degree
Occupation Accountant
Description
Jovial.
i love poetry and dance
IP address 41.215.171.51 – Ghana
---
Username juliehillers454
Email lee208379@gmail.com, anabgifty388@gmail.com
Name Julie Hillers
Looking for Male
Age 37 y.o.
Country United States
City Texas
Here for Friendship, Serious Relationship
Marital status Single
Sexual Orientation Straight
Children I want children
Ethnicity White
Religion Christian
Body Type Athletic
Education Some college
Occupation Nursing Training
Tel 443-579-4996
Description
seeking for love and soulmate
IP address 102.129.224.2 – proxy
---
Username SelenaG
Email Selenagenesken@gmail.com
Name Selena Genesken
Looking for Male
Age 24 y.o.
Country United States
City Los Angeles
Here for Just Fun
Marital status Single
Sexual Orientation Straight
Children I want children
Ethnicity Mixed
Religion Christian
Body Type Athletic
Education High School
Occupation Business woman
IP address 105.112.27.74 – Nigeria
This post was viewed 357 times