Username david6673
Email david.williams1277@yahoo.com
Name David Williams
Looking for Female
Age 55 y.o.
Country United States
City new york
Here for Marriage
Marital status Widowed
Sexual Orientation Straight
Children I have 1-2 children living with me
Ethnicity White
Religion Christian
Body Type Average
Education High School
Occupation doctor
Description
I'm a kind and sincere man, open minded and honest, affectionate. simple, easy going and caring person and true. I enjoy nice brandy, i like traveling share ideas with friends. I love to joke and put smile to the face of people around me.
IP address 172.98.86.68 – proxy
---
Username Allenbn
Email allenbrowing@gmail.com
Name Allen Browing
Looking for Female
Age 54 y.o.
Country United States
City New York
Here for Serious Relationship
Marital status Single
Sexual Orientation Straight
Children I don't have children
Ethnicity White
Religion Christian
Body Type Average
Education Masters Degree
Occupation Business Person
Description
My name is Allen God fearing Honest man with caring heart am new here with honest to meet nice friends also to find love i have lie and scammers
IP address 104.131.218.21 – proxy
---
Username Johncheung
Email wilsonscott0750@gmail.com
Name Wilson Scott
Looking for Female
Age 49 y.o.
Country United States
City Tampa Florida
Here for Serious Relationship
Marital status Divorced
Sexual Orientation Straight
Children I have 1-2 children living with me
Ethnicity White
Religion Christian
Body Type Average
Education Other
Occupation Rig Engineer
IP address 77.111.247.84 – proxy
---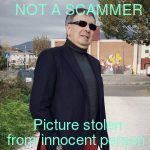 Username carlson12345
Email goodman2491995@gmail.com
Gender Male
Looking for Female
Age 54 y.o.
Country Austria
City Vienna
Here for Friendship, Serious Relationship, Marriage
Marital status Widowed
Sexual Orientation Straight
Children I have 1-2 children living elsewhere
Ethnicity White
Religion Christian
Body Type Average
Education Other
Occupation engineer
Description
i am a good man working hard to take care of my family
IP address 41.242.139.11 – Ghana
---
Username james3033
Email adamjohnson3033@gmail.com
Name Adam Johnson
Looking for Female
Age 55 y.o.
Country United States
City Delray Beach
Here for Friendship, Romance, Serious Relationship, Marriage
Marital status Single
Sexual Orientation Straight
Children I have 1-2 children living elsewhere
Ethnicity White
Religion Christian
Body Type Average
Education Other
Occupation Orthopedic doctor
Description
Talking about my self,I love friends and family, I am a fun person and make friends easily. I love life, love my family and still have some love to share with a special lady. Life can be lonely without someone…I am a person who is very real when it comes to life and its' issues. Am honest,kind caring,affectionate,good sense of humor,easy going,free thinker,trustworthy and respect the lives of other people…..I'm a man who lives life as it comes to me. I don't worry about tomorrow, for it will be here no matter what I do.The best days of my life are yet to come and i am looking for someone who will love and care about me for a long time relationship that can lead to marriage. Although I would consider myself be a romantic, I don't believe that life is about the 'grand passion.' In reality it is more about comfortable comrade. I am really a fun person who loves people,loves to laugh, I am very caring,love music, dancing, singing ( in my car) ! Love the church…am a devoted friend. I like to have fun,I have strong moral values with honesty and integrity being the core of my personality, am very cool, i respect my dignity….I'm excited to see new places, meet new people and do new things.I'm not a fighter and I don't argue, life's too short but I do value friendship and intimacy.Respect is one of the most important requisites in a relationship, as are honesty and commitment. I enjoy going out to dinner, movies, walks,and quiet times. I love nature, enjoy learning, and have a deep respect and love for children. I'm fascinated with the world and different cultures and would enjoy learning more about them….I love to laugh and like being around people with a good sense of humor. I also appreciate people who are different and even quirky
IP address 23.227.142.218 – proxy
– different pic on hangouts
This post was viewed 892 times