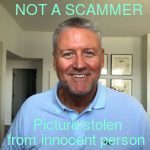 Username jameswine58
Email jameswine5863@gmail.com, chrismaxwell008@gmail.com
Name James Wine, Chris Maxwell
Looking for Male
Age 53 y.o.
Country United States
City Dallas
Here for Serious Relationship
Marital status Separated
Sexual Orientation Straight
Children I have 1-2 children living with me
Ethnicity White
Religion Christian
Body Type Average
Education Masters Degree
Occupation engineer
Description
I am a person who is very real when it comes to life and its' issues. Am honest,kind caring,affectionate,good sense of humor,easy going,free thinker,trustworthy and respect the lives of other people…..I'm a man who lives life as it comes to me. I don't worry about tomorrow, for it will be here no matter what I do.The best days of my life are yet to come and i am looking for someone who will love and care about me for a long time relationship that can lead to marriage.
IP address 41.66.203.111 – proxy
---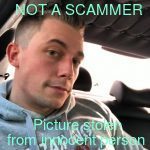 Username Scottparkerjay
Email scottparkerjay@gmail.com
Name Scott Parker Jay
Looking for Female
Age 41 y.o.
Country United States
City California City
Here for Serious Relationship
Marital status Widowed
Sexual Orientation Straight
Children I have 1-2 children living with me
Ethnicity Mixed
Religion Christian
Body Type Average
Education High School
Occupation Self Employed
IP address 41.218.192.41 – Ghana
---
Username Robertchayton
Email chaytonrobert6@gmail.com
Name chayton Robert
Looking for Female
Age 48 y.o.
Country United States
City Los Angeles
Here for Friendship, Serious Relationship, Marriage
Marital status Single
Sexual Orientation Straight
Children I don't have children
Ethnicity Other
Religion Christian
Body Type Average
Education Masters Degree
Occupation business
Description
Funny and livery to be with
IP address 159.253.145.183 – proxy
---
Username Lucky1111
Email jake.hanson760@gmail.com
Name Jake Hanson
Looking for Female
Age 56 y.o.
Country United States
City Hawaiian Gadens
Here for Romance, Serious Relationship, Marriage
Marital status Widowed
Sexual Orientation Straight
Children I have 1-2 children living elsewhere
Ethnicity White
Religion Christian
Body Type Average
Education Other
Occupation Drilling Engineer
IP address 23.235.227.106 – proxy
---
Username Brown332
Email kenbillsbrown@gmail.com
Name Ken Bills Brown
Looking for Female
Age 33 y.o.
Country Italy
City Acciano
Here for Friendship, Romance, Serious Relationship, Marriage
Marital status Separated
Sexual Orientation Straight
Children I have 1-2 children living with me
Ethnicity White
Religion Christian
Body Type Average
Education Masters Degree
Occupation Self employed
IP address 197.210.54.227 – Nigeria
This post was viewed 955 times