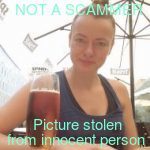 Username Gabriella320
Email gabriellaluis320@gmail.com
Name Gabriella Luis
Age 39 y.o.
Country United States
City Calfornia
Here for Serious Relationship, Marriage
Marital status Widowed
Sexual Orientation Straight
Children I have 1-2 children living elsewhere
Ethnicity White
Religion Christian
Body Type Average
Education PhD
Occupation Military
Description
i am Gabriella from United states California Los Angeles but Currently serving , I am a Military officer .I Have a Daughter and she is called Louisa.Both of my Parent are died with one of Child through an accident by a Motorist .
i love having fun at the beach at leisure time
i love listen to country town music
IP address 41.66.199.6 – Ghana
---
Username eva5
Email camillejackson904@gmail.com, nicolegavin370@gmail.com
Name Camille Jackson, Eva Duran, Nicole Galvin
Age 32 y.o.
Country United States
City alaska
Here for Friendship, Serious Relationship, Marriage
Marital status Single
Sexual Orientation Straight
Children I don't have children
Ethnicity White
Religion Christian
Body Type Average
Education Masters Degree
Occupation military
Description
I am Eva Duran, a citizen of the United States of America but now
on peace keeping mission here in Libya since the death of the president
Muammar Gaddafi as the result of my profession in serving the world united
nation as a United State Army officer. I grow up as an Orphan at the
Kentucky Baptist Children's Homes, I am 31 years old, single and never
married before
IP address 196.170.104.72 – Togo
---
Username Evelyn54321
Email Evelynguill2016@gmail.com
Name Evelyn Guill
Age 30 y.o.
Country United States
City Nashville Tennessee
Here for Serious Relationship, Marriage
Marital status Single
Sexual Orientation Straight
Children I have 1-2 children living with me
Ethnicity White
Religion Christian
Body Type Average
Education Some college
Occupation Receptionist
Description
Personal Description I am honest trustworthy caring faithful and understanding I hate lie cheating and hurting
IP address 161.129.70.139 – proxy
---
Username lovesmile
Email heidefierens22@outlook.com
Name Heide Fierens
Age 42 y.o.
Here for Fun, Friendship, Romance, Serious Relationship, Marriage
Looking for Male
My match's age from 19 to 86
Location Bergen, Norway
Marital status single
Children no children
Sexual Orientation Straight
Ethnicity white
Religion Christian
Occupation trader
Description
I am a very warm and friendly person with a good sense of humor and passionate . I give freely of myself .I am strong and independent and no matter how bad things get i am always looking for that silver lining. I believe that life is magical … I'm very spontaneous and adventurous and I love the outdoors.
IP address 178.61.155.130 – Kuwait, proxy
---
Username erin619
Email kristenpatterson069@gmail.com
Name Kristen Patterson
Looking for Male
Age 28 y.o.
Country United States
City camden
Here for Romance, Serious Relationship, Just Fun
Marital status Single
Sexual Orientation Straight
Children I don't have children
Ethnicity White
Religion Other
Body Type Athletic
Education Some college
Occupation want to settle down to my self
Description
i'm sexy , intelligent , naughty sometime:P and easy to please kind of person …i love being with people who can make me smile and love being with a person
who is sensitive with my need and specially with my sexual desire 🙂
i'm also an adventurous person .. love to spend my free time with friend doing hiking ,surfing and out of town trip .. maybe that's why i ended up in this industry
IP address 104.236.55.136 – proxy
– different pic on hangouts
This post was viewed 582 times