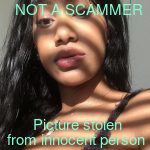 Username linaaja
Email emeliawilly@gmail.com
Name Emelia Willy
Looking for Male
Age 33 y.o.
Country United States
City Florida
Here for Friendship, Romance, Serious Relationship, Marriage
Marital status Single
Sexual Orientation Straight
Children I don't have children
Ethnicity Mixed
Religion Christian
Body Type Athletic
Education High School
Occupation fashion Models
Personal Description
I am a very sociable and open person, every day I help to choose wedding outfits for my clients. Like all the girls I dream of at least once in the place of the bride. But I do not want to rush things, first we need to get to know each other and organize a personal meeting. Only there we can understand our passion for each other and attraction. I'm ready to open up to you and build something real together. You are ready? Why did you come here?
IP address 174.138.43.184 – proxy
This scam profile was removed from datingnmore, reason: fake IP, differenr picture on hangouts
This post was viewed 531 times