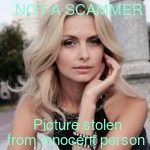 username: kisss3
name: Alena
email: otixonovich@list.ru
age: 35
location: Minsk, Belarus
ethnicity: white
occupation: model
marital status: divorced
IP address: 37.214.66.200
description:
I am a native of Zhodino, in 2009 won and became Miss Zhodino, immediately received orders for shooting and I moved to Minsk. My career there has led me to a completely different direction,a few shootings yet it was , since I graduated from Zhodino College of sports, I decided to get in Minsk with work related to physical culture. Every year (several times a year) I run a marathon running. I take prizes and even train children in my free time – I prepare them for running competitions. BUT it's more my hobby than my main job. I work as a fitness instructor and conduct individual training sessions on sports training.
I am 34 years old and I know what sport is and how to be athletic and fit at my age. I have no children. I was married,but I was still in the town of Zhodino. My husband did not want to change anything in his life and remained in Godenov while I moved to the capital of Belarus. After a year of my travels and life in Minsk, we lost touch and realized that we were distant. We both decided it was time for us to get a divorce, so I didn't have time to have kids.
Now I live in Minsk and I'm happy to be successful, but I'm lonely. But this does not mean that I do not have a circle of friends and acquaintances, just no one to go on vacation, no one to cook and yet there is no full-fledged family that I want to create.
message: –
WHY IS IT A SCAM / FAKE:
IP is Mogilev
IP doesn't correspond location
Pictures are stolen from a known source, from Belarus model Olga Khizhinkova
This post was viewed 2812 times