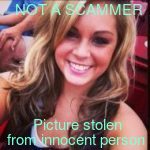 username: juligal02
name: Julia Peterson
email: julia.peterson@yahoo.com
age: 30
location: Los Angeles, California, United States
ethnicity: white
occupation: beautician
marital status: single
IP address: 41.114.107.204
description:
I am a genuinely kind and nice person with a great sense of humor.
I'm someone who appreciates life, embraces comfort and caring, and who expects mutual respect for each other.
I'm genuinely me. Yes, there are a lot of things I can improve on, and I'm looking for the partner who will encourage those things … I am honest and trustworthy, I'm that friend who is always there when you need me.
message: –
WHY IS IT A SCAM / FAKE:
IP is South Africa
IP doesn't correspond location
Profile description is widely used in scams
Nigerian scamming from South Africa
This post was viewed 1720 times