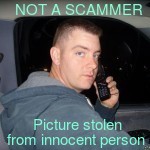 username: bowen200
name: Mick Bowen
email: sgt.bowen200@yahoo.com
age: 47
location: Los angeles, California, United States
ethncity: –
occupation: military
marital status: –
IP address: 173.208.199.76
description:
I'm very kind,sympathetic and modest Man.I like flowers,compliments and attention from the side of woman like you sweetness…I'm an easy going person and I have a lot of friends.Communication is Most important part of my life.Also I'm patient,prudent person with sweet temper,down to earth,I love Surprises.
alternative description:
Talk about myself? no, I couldn't…well, ok. i love to laugh and i live life to the fullest…oh wait, that's my satanic twin talking. ignore him. My passions include traveling, literature, diving and listening to musics watching sports and helping people. I'm a happy person.
My ideal match would have be pretty honest caring understanding trustworthy passionate romantic integrity open minded and God's fearing. should be cool. That's all. If you like Pina Colada and taking walks in the rain…..And have good personal hygiene…Actually the latter not a deal breaker.My most humbling moment was that time when I realized that I had no social skills, clothing taste or personal hygiene and people who love kids….
message:
How are you doing SWEETNESS i just came across your profile now and is very interesting and i wish to know more about you sweetness.you can add me on yahoo messenger or you email me on (sgt.bowen200@yahoo.com) or you send me your yahoo messenger ID or your email to talk.
Hope to hear from you soon.
Bowen.
WHY IS IT A SCAM / FAKE:
IP is a proxy
IP doesn't correspond location
Pictures are widely used in scams
Mass-mailing
Nigerian wording
Also see here:
https://www.romancescam.com/forum/viewtopic.php?f=3&t=48990
This post was viewed 3653 times