Username EvansBuxton
Email EvansBuxton23@gmail.com
Name Evans Buxton
Age 54 y.o.
Country United States
City Denver Colorado
Here for Serious Relationship, Marriage
Marital status Divorced
Sexual Orientation Straight
Children I don't have children
Ethnicity White
Religion Christian
Body Type Average
Education PhD
Occupation Civil engineering
Description
I have come with a good news and a bad news.. The good news is i came here to pick my woman to make happy, my eight wonder, my best friend, my copilot, but the bad news is that i have only one woman to do this for.lol. I'm talking about faith here when feelings are so powerful it's as if some force beyond your control is guiding you to someone who can make you happy beyond your wildest dreams.
IP address 209.143.6.230 – proxy
---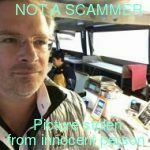 Username Tortiz
Email to857751@gmail.com
Age 60 y.o.
Here for Serious Relationship
Looking for Female
My match's age from 51 to 86
Location Brockville, ON, Canada
Marital status single
Children no children
Sexual Orientation Straight
Ethnicity white
Religion Christian
Occupation Engineering
Description
Open and honest man looking to meet someone i can love and spend the rest of my life with …
IP address 43.225.189.105 – proxy
---
Username danielwilson055
Email dw67danielwilson@gmail.com
Name Daniel Wilson
Age 54 y.o.
Here for Serious Relationship, Marriage
Looking for Female
My match's age from 54 to 86
Location Jacksonville, FL, USA
Marital status single
Children no children
Sexual Orientation Straight
Ethnicity white
Religion Christian
Occupation Engineer
Description
Understanding, tolerant, and inquisitive person who doesn't like discrimination and bigotry.
IP address 185.94.188.134 – proxy
---
Username Scott68ww7ujh
Email christopher2wwet@outlook.com
Name Christopher Scott
Age 67 y.o.
Here for Friendship, Romance, Serious Relationship, Marriage
Looking for Female
My match's age from 68 to 86
Location Grayslake, IL 60030, USA
Marital status widowed
Children 1-2 living elsewhere
Sexual Orientation Straight
Ethnicity white
Religion Christian
Occupation Engineer
Description
I am definitely not here to "play," and I think you and I are searching for the same thing—a friendship—and if that friendship should blossom into something more, we would be blessed with one of life's most beautiful gifts—the gift of love. I have held on tightly to the hope that this blessing will be bestowed upon me. To find that one special woman, or as you say, "beloved partner in life," with whom I can share everything—unite my heart, body, and soul. That one special woman who will cherish and respect me, with all my imperfections, as much as I will always cherish and respect her This would be a dream come true. I'm into friendship; relationships depend on whom I meet… I am looking for someone who is secure and who knows what they want in a man. I want someone who is not afraid of commitment, someone who can communicate well, both with words and feelings, and someone who will treat me as an equal and not an object. A good sense of humor, is outgoing, and likes horses and all other animals too. A romantic person and someone who is not afraid to cook dinner once in a while. Someone who will walk beside me and not in front of or behind me Maturity, stability, and just being an all-around good woman I am the one who sees the glass half-full and is always looking for the silver lining. I look for simple pleasures and not so-simple pleasures in life. I believe that you do have to enjoy life to the fullest; you never know when it could end. I am an honest person who doesn't play games with other people's emotions. I am very caring about others needs. I enjoy hanging out with friends, outdoor activities, and quiet evenings at home. I consider myself good-looking, and I do believe in soulmates. I know that she is the right woman for me when the time comes, and I am a nice person as well. I am affectionate and romantic, friendly, and confident. I'm open-minded and cheerful. I work hard, and I want to grow both in my job and personally. I am romantic, caring, faithful, and jealous of what I love. I hope to find and meet a woman to fall in love with. Clever, communicative, honest, and ready for commitments. I would like her to be sweet, supportive, faithful, caring, comprehensive, a family lover, elegant, and cheerful. I would like to meet someone special that I can grow old with and with whom I can always look into each other's eyes and know that the love between us is just as wonderful and exciting as the day we met. I want to love a woman for who she is, to spoil her, to love her, and to let her know just how much she means to me by the little things I do or say to make her feel special. While at the same time she treats me in the same way with love and respect, I'm really looking for someone. Honest, caring, romantic, kind, possessing a great sense of humor, loyal, gentle, cheerful, having the fear of God in his life, responsible, someone who still believes in true love, affectionate, passionate, understanding, intelligent, respectful, and trust worthy, I'm searching for my lifelong partner to share a great life of love with. Romance, long, slow kisses, feeling very special, intimacy, spirituality, pleasurable communication, dancing, meeting of the minds, opening a door for you, flowers, traveling, and other exciting interests and adventures A great life of love. I am one who strongly believes in respect and that without respect, you can't experience true love and generate a healthy relationship. I believe in a friendship at first and then a larger one later as it develops into a beautiful, loving, committed, and honest relationship. I believe it is not just about what you are like on the outside, but more about what you are like on the inside. I'm seeking a relationship. (no game playing, please) with someone who appreciates some of the same temperaments and interests I enjoy. That special someone is a woman with integrity who is spiritually compatible with me, has similar beliefs, is responsible, intelligent, has a great sense of humor, is positive, is clean and neat in habit and appearance, is romantic, and is passionate about loving. I would prefer that someone show interest and be supportive in all ways. She should be financially secure, and has 'been there, done that'. I like an adventurous person who likes travel, nature, and being at home. She is a woman who is at peace with herself. I am hoping to connect with people of like minds to form friendships first, and then leave the rest to the universe. I'm a gentle soul, quiet, and certainly not what most people would call a social butterfly. Instead, I'm the quiet, watchful listener who will provide you with a listening ear after a tough day, and not judge, or tell you what to do. I love nature and water, and I feel an especial kinship to just being near water and having water right near my home. I feel the peace of the world in the breeze across the water. I'm a one man, one woman type of man. Noon judgmental, understanding, caring, supportive, and a good listener. I believe in letting go of the past and embracing the present. Make meaning and be happy for the rest of your life. As we find each other, know that all it takes is a little commitment and honesty and respect for each other. With all that is going on in the world right now, you just don't know when it could end, so life is too short to be alone without that special someone by your side every morning. We woke up in each other's arms, cuddling and hearing sweet little laughter before getting up from bed in the morning to start the day. Finding that special someone to talk to as you start your day, spend time together, and do all the nice activities with.
IP address 216.250.252.140 – proxy
---
Username Davidtoney55
Email davidtoney180@gmail.com
Name David Toney
Age 27 y.o.
Country United States
City Washington
Occupation Engineering
IP 129.205.96.146 – Nigeria
---
More emails of scammers
Michaelrobert55225@gmail.com
majestyinteriorsandexteriors@gmail.com
tinahiggins350@gmail.com
juliannapersova@gmail.com
Matthewlitzelman@gmail.com
This post was viewed 66 times