Username prettyqueen20222
Email armbermuller20233@outlook.com
Name Amber Muller
Age 46 y.o.
Here for Fun, Romance, Serious Relationship
Looking for Male
My match's age from 19 to 86
Location Chantilly, VA, USA
Marital status single
Children no children
Sexual Orientation Straight
Ethnicity mixed
Religion Christian
Occupation Ask me
Description
I am an adult with a young look but I'm not a young woman, at heart I feel like a young and hot woman. I love life and everything that surrounds me. I always try to be in a good mood because I think about things and dreams and hope to get in touch with someone special. In fact I'm willing to spoil the lucky man to grab me forever. I mean ride or die because I always try to be the best version of myself. I hope that everything will work out for me and my man. I really want happiness that will please me every day. Let's definitely get to know each other so if you are interested message me & I promise to message back.
IP address 72.66.114.143 – proxy
---
Username Taylorfurda2
Email Taylorfurda0@gmail.com
Name Taylor Furda
Looking for Male
Age 32 y.o.
Country United States
City Chicago
Here for Serious Relationship
Marital status Single
Sexual Orientation Straight
Children I have 1-2 children living with me
Ethnicity Native American
Religion Christian
Education Some college
Occupation Hookuper
Tel 331-642-0387
Description
I'm taylor, I'm free today …… down for hookup hit me if you are interested (331) 642-0387
IP address 173.255.171.62 – proxy
---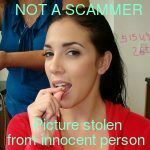 Username Angelinacnm
Email sweetxxcm@gmail.com, rosejonecnm@gmail.com
Gender Female
Looking for Male
Age 38 y.o.
Country United States
City Colorado
Here for Friendship, Romance, Serious Relationship, Marriage
Marital status Single
Sexual Orientation Straight
Children I want children
Ethnicity White
Religion Spiritual
Body Type Fit
Education Masters Degree
Occupation Nurse
Tel 515-498-2603
Description
Personal Description I will be glad to hear back from you do not waste much time you can find me on Google chat on R o s e j o n e c n m or you can text me on Five 1 five 4 nine 8 two 6 zero 3 Thank you..We can have fun too
IP address 192.152.153.97 – proxy
---
Username rosematt
Email rosekarl156km@gmail.com
Name Rose Karl
Age 34 y.o.
Here for Serious Relationship
Looking for Male
My match's age from 30 to 60
Location California, USA
Marital status single
Children no children
Sexual Orientation Straight
Ethnicity white
Religion Christian
Occupation hairdrsser
Description
Hello how are you doing handsome man nice to meet you here by the way my name is rose and am single looking for a serious relationship
IP address 64.203.202.127 – proxy
---
Username MargretCarter001
Email margretcarter59@gmail.com
Name Margaret Carter
Looking for Male
Age 36 y.o.
Country United States
City Harrison arkansas
Here for Romance, Serious Relationship, Marriage
Marital status Single
Sexual Orientation Straight
Children I don't have children
Ethnicity White
Religion Christian
Body Type Athletic
Education Other
Occupation Hairstyles
Tel 501-295-7322
Description
Am easy person am straightforward person I hate lies i hate promises and fail it am very romantic if you want to know more you can text my contact and ask (501) 295-7322
IP address 102.89.46.142 – Nigeria
This post was viewed 258 times