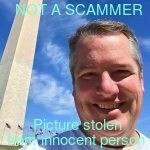 Username Tonyadams
Email succester110@gmail.com
Name Tony Adams
Looking for Male
Age 53 y.o.
Country United States
City Texas
Here for Serious Relationship
Marital status Widowed
Sexual Orientation Straight
Children I don't have children
Ethnicity White
Religion Christian
Body Type Fit
Education PhD
Occupation Engineering
Description
I am looking for a responsible person
IP address 105.112.55.157 – Nigeria
---
Username Nikky2211
Email nasgreat2211@gmail.com
Gender Male
Looking for Female
Age 51 y.o.
Country United States
City Atlanta
Here for Serious Relationship, Marriage
Marital status Single
Sexual Orientation Straight
Children I have 1-2 children living elsewhere
Ethnicity White
Religion Christian
Body Type Average
Education Some college
Occupation IT Consultant and into business
Description
I'm easy going person. I like to meet new friends.
IP address 104.129.18.135 – proxy
---
Username IwenePeter09
Email fileo5284@gmail.com
Name Iwene Peter
Looking for Female
Age 37 y.o.
Country United States
City Phoenix Arizona
Here for Serious Relationship
Marital status Single
Sexual Orientation Straight
Children I want children
Ethnicity Black
Religion Muslim
Body Type Fit
Education Bachelors Degree
Occupation Building construction
Description
Personal Description Am always on my own
IP address 41.190.31.245 – Nigeria
---
Username Mmogan
Email believewithfaith3@gmail.com
Looking for Both
Age 60 y.o.
Country United States
City Us
Here for Friendship
Marital status Widowed
Sexual Orientation Straight
Children I have 1-2 children living elsewhere
Ethnicity White
Religion Other
Body Type Fit
Education Masters Degree
Occupation Sea petroleum engineer
Description
Being great is just all about heard work
IP address 197.210.76.98 – Nigeria
---
Username PaulRobert
Email paulrobert228@gmail.com
Name Paul Robert
Looking for Both
Age 46 y.o.
Country United States
City new york
Here for Marrriage
Marital status Widowed
Sexual Orientation Straight
Children I have 1-2 children living elsewhere
Ethnicity White
Religion Christian
Body Type Average
Education Masters Degree
Occupation engineer
IP address 173.214.183.107 – proxy
This post was viewed 246 times