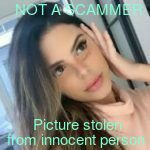 Username zaraha1
Email zarahashley76@gmail.com
Name Zarah Ashley
Looking for Male
Age 32 y.o.
Country Canada
City vancouver
Here for Friendship, Romance, Serious Relationship, Marriage
Marital status Single
Sexual Orientation Straight
Children I want children
Ethnicity Hispanic
Religion Atheist
Body Type Fit
Education Bachelors Degree
Occupation arquitaine
Description
Well am single with no kids never been married and looking for a long term life partner to spend the rest of my life with him…
IP address 41.66.46.36 – Ivory Coast
---
Username Iamchristabella160
Email kimchristabel2020@gmail.com
Name Kim Christabel
Looking for Male
Age 36 y.o.
Country United States
City Dallas
Here for Marriage
Marital status Single
Sexual Orientation Straight
Children I don't have children
Ethnicity White
Religion Christian
Body Type Fit
Education High School
Occupation Self employed
Description
Hello I'm a honest and friendly person…also caring I'm single hoping not to be single anymore interested in any man with love and caring heart
---
Username honesterica44atgm
Email honesterica44@gmail.com
Gender Female
Looking for Male
Age 33 y.o.
Country United States
City NY
Here for Friendship, Serious Relationship, Marriage
Marital status Single
Sexual Orientation Straight
Children I don't have children
Ethnicity White
Religion Other
Body Type Average
Education Some college
Occupation working
Tel 773-492-3445
Description
i am Erica i am looking for a serious relationship that will lead to something married you can add me on hangout honesterica44@gmail.com or text (773) 492-3445
me hope to hear from you soon
IP address 102.176.94.121 – Ghana
---
Username Dottyl
Email andersondottie030@gmail.com
Name Dottie Anderson
Looking for Male
Age 34 y.o.
Country United States
City Evansville Indiana
Here for Friendship, Just Fun
Marital status Widowed
Sexual Orientation Straight
Children I have 1-2 children living with me
Ethnicity White
Religion Christian
Body Type Slim
Education Some college
Occupation Makeup artist
Description
I dream of finding a man with an active life position. I would also like him to be responsible, reliable, one who loves children. It is also important to me that my future husband is responsible and purposeful. I would like to feel like a real queen next to the king in my relationship.
IP address 108.62.123.59 – proxy
---
Username valentainnappi
Email valentainnappi123@gmail.com
Looking for Male
Age 35 y.o.
Country United States
City new york
Here for Serious Relationship
Marital status Single
Sexual Orientation Bisexual
Children I don't have children
Ethnicity White
Religion Christian
Body Type Slim
Education Other
IP address 41.218.216.220 – proxy
This post was viewed 349 times