Username Maviswilliam390
Email maviswilliam390@gmail.com
Name Mavis William
Looking for Male
Age 31 y.o.
Country United States
City Maryland
Here for Friendship, Romance, Serious Relationship, Marriage, Just Fun
Marital status Single
Sexual Orientation Straight
Children I don't have children
Ethnicity White
Religion Christian
Body Type Average
Education Some college
Occupation Trade
IP address 154.160.17.105 – Ghana
---
Username Cheryln
Email cheryl.miller311@gmail.com, Dunnpatricia980@gmail.com
Name Cheryl Miller, Patricia Dunn
Looking for Male
Age 34 y.o.
Country Sweden
City Gothenburg
Here for Friendship, Romance, Serious Relationship, Marriage
Marital status Single
Sexual Orientation Straight
Children I don't have children
Ethnicity Mixed
Religion Christian
Body Type Athletic
Education Some college
Occupation Catering
Description
Personal Description I am caring, faithful, loyal, truthful, loving, goals achiever, honest, confidential, understands the ups and downs of life, committed to relationship, visionary, conservative, passionate, romantic, sexy and loving. I am single with no kids. Do you like me? I'm an adult, I'm ready for a serious relationship. I am waiting for your offer, ready to communicate with you as you like – emails, chat. You are amazing, give me a few words about yourself. I really hope to hear from you soon.
You can contact me and also add me to hangout : cheryl311miller@gmail.com
IP address 95.215.45.60 – proxy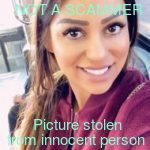 ---
Username Opnheartrr
Email Innovatorinsch@gmail.com
I am Female
Age 36 y.o.
Here for Romance, Serious Relationship, Marriage
Looking for Male
My match's age from 40 to 86
Location Ontario, Canada
Marital status single
Children no children
Sexual Orientation Straight
Ethnicity mixed
Religion Christian
Occupation Marketing consultant
Description
Easy going girl who enjoys the outdoors, love cooking and spending time with friends and family. I love sports and visiting the museums and taking walk at the beach. My friends describes me as someone who is very passionate, caring and a kind hearted person.
IP address 154.21.21.11 – proxy
---
Username Sallyjohnson2040
Email saallysalad@gmail.com
Name Sally Johnson
Looking for Male
Age 37 y.o.
Country United States
City Pennsylvania
Here for Serious Relationship
Marital status Single
Sexual Orientation Straight
Children I want children
Ethnicity Mixed
Religion Christian
Body Type Average
Education Other
Occupation Sale's personal
Description
My father is Asian and my mother is African but I lost my father when I was very young.
Write me directly to my mail… saallysalad@gmail.com
IP address 41.215.163.133 – Ghana
---
Username Annaeme1
Email Ichcofompo01@gmail.com
Gender Female
Looking for Male
Age 30 y.o.
Country United States
City Texas
Here for Friendship, Serious Relationship, Marriage
Marital status Single
Sexual Orientation Bisexual
Children I don't have children
Ethnicity White
Religion Christian
Body Type Athletic
Education Some college
Occupation Government worker
IP address 51.81.82.8 – proxy
This post was viewed 214 times