Username Jamescasin
Email doctorsave87@gmail.com
Name James Casin
Looking for Both
Age 54 y.o.
Country United States
City New York
Here for Marriage
Marital status Widowed
Sexual Orientation Straight
Children I want children
Ethnicity White
Religion Christian
Body Type Average
Education Other
Occupation Real Estate
IP address 129.205.113.215 – Nigeria
---
Username Ksutter
Email kjsutter2020@gmail.com
Gender Male
Looking for Female
Age 58 y.o.
Country United States
City Nashville
Here for Serious Relationship
Marital status Widowed
Sexual Orientation Straight
Children I have 1-2 children living elsewhere
Ethnicity White
Religion Christian
Body Type Average
Education Bachelors Degree
Description
I'm very honest, faithful, loving and caring man who is also hardworking. I am here in search of my soul mate who will really and truly love me as i am.
IP address 92.119.18.145 – proxy
– different picture on hangouts
---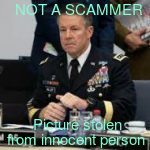 Username Mason1144
Email k00168819@gmail.com
Looking for Female
Age 58 y.o.
Country United States
City San Diego California
Here for Friendship
Marital status Divorced
Sexual Orientation Straight
Children I have 1-2 children living with me
Ethnicity White
Religion Christian
Body Type Athletic
Education Masters Degree
Occupation US Military
IP address 197.251.155.225 – Ghana
---
Username promiseosas112018
Email danielwilson112018@gmail.com
Gender Male
Looking for Female
Age 42 y.o.
Country Germany
City munich
Here for Serious Relationship
Marital status Single
Sexual Orientation Straight
Children I have 1-2 children living with me
Ethnicity Asian
Religion Buddhist
Body Type Average
Education Other
Occupation military doctor
IP address 129.205.113.210 – Nigeria
---
Username James4329
Email Katejames4329@gmail.com
Name Kate James
Looking for Female
Age 50 y.o.
Country China
City Guilin,guangxi
Here for Serious Relationship
Marital status Divorced
Sexual Orientation Straight
Children I have 1-2 children living elsewhere
Ethnicity White
Religion Christian
Body Type Fit
Education Bachelors Degree
Occupation Pilot
IP address 197.210.70.247 – Nigeria
---
More emails of scammers
lisasandra749@gmail.com
dorcasarthur804@gmail.com
angelajesse15@gmail.com
Thousandfeeling192@gmail.com
Badjei563@gmail.com
dyliskusi@gmail.com
citaschapelle@gmail.com
irinagalina@gmail.com
gomezchanelly9@gmail.com
978-350-0320
This post was viewed 166 times