Username Charlesjeff
Email charlesjeff760@gmail.com
Name Jeffrey Charles
Looking for Female
Age 47 y.o.
Country Turkey
City Istanbul
Here for Serious Relationship
Marital status Single
Sexual Orientation Straight
Children I don't have children
Ethnicity White
Religion Christian
Body Type Average
Education High School
Occupation Engineer
Description
I'm Jeffery by name and I want to look for my soulmate and the woman I can spend the rest of my life with I'm a very simple person
IP address 105.112.74.97 – Nigeria
---
Username Bryanpowers3
Email obedgary12@gmail.com
Name Bryan Powers
Age 57 y.o.
Here for Friendship, Serious Relationship, Marriage
Looking for Female
My match's age from 50 to 85
Location Cologne, Germany
Marital status widowed
Children no children
Sexual Orientation Straight
Ethnicity white
Religion Christian
Occupation doctor
Description
I have an outgoing attitude, am positive-minded in nature and spontaneous towards new experiences. I like to laugh and have been described as having a good sense of humor. I enjoy the outdoors, have a wide variety of interests and am an inquisitive soul who loves learning about new places, people and things. Love traveling for the many memories created.
IP address 174.48.127.106 – proxy
---
Username Kazuya_luong
Email lx4367@gmail.com
Name Kazuya Luong
Looking for Female
Age 49 y.o.
Country Japan
City Tokyo
Here for Serious Relationship, Marriage
Marital status Divorced
Sexual Orientation Bisexual
Children I have 1-2 children living elsewhere
Ethnicity Asian
Religion Christian
Body Type Athletic
Education High School
Occupation Army
Description
I am 175cm, gray hair, brown eyes.,and 88kg.I am very loving, caring, and very honest.i love to read, dance, watch comedy movies, play music, like country music and most of all cooking.
IP address 41.218.207.178 – Ghana
---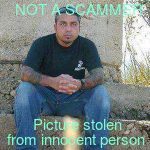 Username Stephenclaven
Email stephenclaven@gmail.com
Name Stephen Claven
Looking for Female
Age 60 y.o.
Country United States
City California
Here for Serious Relationship, Marriage
Marital status Widowed
Sexual Orientation Straight
Children I have 1-2 children living elsewhere
Ethnicity White
Religion Christian
Body Type Athletic
Education Some college
Occupation contractor
IP address 95.91.228.229 – proxy
---
Username richardmurphy
Email richardmurphy963258@gmail.com
Name Richard Murphy
Looking for Female
Age 47 y.o.
Country United States
City Texas
Here for Serious Relationship, Marriage
Marital status Widowed
Sexual Orientation Straight
Children I have 1-2 children living with me
Ethnicity White
Religion Christian
Body Type Fit
Education PhD
Occupation engineer
IP address 143.110.142.213 – proxy
This post was viewed 629 times