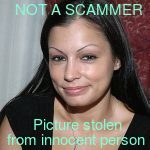 Username Lisahawkins11
Email hawkinslisa569@gmail.com
Name Lisa Hawkins
Looking for Male
Age 30 y.o.
Country United States
City Alabama
Here for Serious Relationship, Marriage
Marital status Single
Sexual Orientation Straight
Children I don't have children
Ethnicity White
Religion Christian
Body Type Average
Education Bachelors Degree
Occupation schooling
Description
i am Lisa Hawkins and i am new here single with no kid
I am a positive and easy-going young woman who tries to stay feminine and tender, but can be strong if it is needed. I am a good listener and I like to have interesting honest conversations. I am active and I like to try new things and to enjoy every day of my life. I am a very romantic lady who has piece in her soul and who wants to share this world with some special man. I believe in love and I want to give all of me to my soul mate. I am a giving and family-oriented woman. I love to develop myself in different areas and I would like to grow together with my man.
IP address 154.160.1.24 – Ghana
---
Username Ekaterina30
Email zajcevae993@gmail.com
Name Ekaterina Zajceva
Age 30 y.o.
Here for Serious Relationship
Looking for Male
My match's age from 30 to 57
Location Moscow, Russia
More info
Marital status in relationship
Children no children
Sexual Orientation Straight
Ethnicity white
Religion Other
Occupation Lawyer
Description
The main thing is that I am an honest and good person. For a complete feeling of happiness, the second half is not enough, otherwise they consider themselves to be an integral person. I am the happy owner of many hobbies, some of which do not go well with each other at all. But in this way you can understand that the framework is not for me, I prefer freedom. "
"I am not an ideal in the entire universe, but if you look at whose universe. It's easy with me, for this you just need to be near. Someone will consider me crazy, but who is normal in this world? One has only to give me time and I will turn the Earth upside down. "
"I never lie, even when I lie, I am honest. I am ready to give my legs, but always in good caring hands. I'm not trying to prove to everyone that I'm good. First, prove me otherwise. "
IP address 212.119.233.120 – Russia
---
Username Tracyclee96
Email jahblessme335@gmail.com
Looking for Male
Age 33 y.o.
Country United States
City Kissimmee
Here for Serious Relationship, Marriage
Marital status Single
Sexual Orientation Straight
Children I want children
Ethnicity White
Religion Christian
Body Type Average
Education Some college
Occupation Unemployment
Description
I'm here to find true love if your serious you can just text 779-999-1864
IP address 68.235.33.99 – proxy
---
Username julietbotwey
Email julietbotwey222@gmail.com
Name Juliet Botwey
Looking for Male
Age 58 y.o.
Country Djibouti
City florida
Here for Serious Relationship
Marital status Single
Sexual Orientation Bisexual
Children I don't have children
Ethnicity White
Religion Spiritual
Body Type Slim
Education Other
Description
hello i am Juliet botwey from usa and i am now looking fro the one who will loves me and cares about me qand if you dont bother you casn text me on google now on julietbotwey222qatgmail.com`
IP address 104.129.18.216 – proxy
---
Username Pablosophia
Email sophiapablo20k20@gmail.com, kudinasuwa478@gmail.com
Name Sophia Pablo Kudi Nasuwa
Looking for Male
Age 66 y.o.
Country United States
City Califonia
Here for Friendship, Romance, Serious Relationship, Marriage, Just Fun
Marital status Single
Sexual Orientation Straight
Children I don't have children
Ethnicity Other
Religion Other
Body Type Fit
Education Other
Description
Hi Dear ..i am kudi, Isn't it great to have someone to talk to during these lonely times when we have to be apart so much? Looking forward to chatting with an interesting and genuine Man makes me feel good.. you Hangout me on kudinasuwa478@gmail.com or you text me at 484-558-1208 like to hear from you
IP address 41.66.230.8 – Ghana
This post was viewed 296 times