Username Annetochka
Email ease333@yahoo.com, margoret77@mail.ru
Name Anna Magnitova
I am Female
Age 43 y.o.
Here for Marriage
Looking for Male
My match's age from 40 to 58
Location Perm, Perm Krai, Russia
Marital status divorced
Children no children
Sexual Orientation Straight
Ethnicity white
Religion Christian
Occupation dentist
Scam message
I am rarely at home, it is easier for me to carry out correspondence from my phone, but my phone does not support this site, shall we talk by personal mail? What address can I write to you?
IP address 188.16.91.144 – Russia
Redirects victims to the FAKE SCAM site translateyourself.com which is a part of a HUGE infamous scam translation network interlingvo.com. Translateyourself.com is a scam, beware!
---
Username Braina111
Email brainajones42@gmail.com
Name Briana Jones
Looking for Male
Age 29 y.o.
Country United States
City Texas
Here for Friendship, Serious Relationship, Marriage
Marital status Single
Sexual Orientation Straight
Children I don't have children
Ethnicity White
Religion Christian
Body Type Average
Education Masters Degree
Occupation Manager
Tel 917-994-0839
Description
hi im new here ….serious relationship text or hangount (+19179940839 or brainajones42@gmail.com)
IP address 70.115.230.109 – proxy
---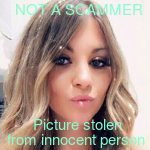 Username Rachel2e
Email rachelkayden10@gmail.com
Name Rachel Kayden
Looking for Male
Age 25 y.o.
Country United States
City Tampa Florida
Here for Romance, Serious Relationship, Marriage, Just Fun
Marital status Single
Sexual Orientation Straight
Children I don't have children
Ethnicity White
Religion Christian
Body Type Fit
Education Masters Degree
Tel 740-883-1421
Description
I am a serious woman looking for someone to spend time or more with
Add me on Hangout at rachelkayden10@gmail.com Or Whatsapp at +17408831421
IP address 129.18.240.43 – Nigeria
---
Username Tatuana
Email nasaw98197@rambler.ru
Gender Female
Looking for Male
Age 40 y.o.
Country Russia
City Kazan
Here for Friendship, Romance, Serious Relationship, Marriage
Marital status Single
Sexual Orientation Straight
Children I don't have children
Ethnicity White
Religion Christian
Body Type Athletic
Education Other
Occupation Doctor
Description
How are you? How are you in the mood? send your E …
IP address 5.45.82.247 – proxy
---
Username Tellajarmo777
Email tellajarmo777@gmail.com, sarahremmen@gmail.com
Name Sarah Remmen
Looking for Male
Age 35 y.o.
Country United States
City Denver
Here for Serious Relationship, Marriage
Marital status Separated
Sexual Orientation Straight
Children I want children
Ethnicity Mixed
Religion Christian
Body Type Athletic
Education Bachelors Degree
Occupation Self employed
Tel 423-375-4921
Description
Im just easy going lady and easy to talk to ask me anything you want to know (423) 375-4921 I'm up for chart
IP address 64.145.93.53 – proxy
---
More emails of scammers
vanessabale566@gmail.com
sandrasmith20017ee@gmail.com
emiliajordan129@gmail.com
akashaakand@gmail.com
Bernadettefinnegan334@gmail.com
abbeyrhode30@gmail.com
Hudsonseren2@gmail.com
929-338-4918
510-335-7062
This post was viewed 910 times