Username AngelNievea
Email Angelkgv24@gmail.com
Name Angel Nievea
Looking for Male
Age 40 y.o.
Country United States
City Lancaster PA
Here for Friendship, Serious Relationship, Marriage
Marital status Widowed
Sexual Orientation Straight
Children I have 1-2 children living with me
Ethnicity White
Religion Christian
Body Type Slim
Education High School
Occupation Self Employed
Description
I am a passionate woman and l love to be affectionate. In the long run it is companionship and enjoyment of what each person loves to do. The compatibility to enjoy it together. I am not into lust, rather into finding chemistry that will lead to love and monogamy.
IP address 50.68.206.10 – proxy
---
Username allenmaria005
Email allenmaria005@gmail.com
Name Allen Maria
Looking for Male
Age 25 y.o.
Country United States
City Montana
Here for Friendship, Romance, Serious Relationship, Marriage, Just Fun
Marital status Single
Sexual Orientation Straight
Children I don't have children
Ethnicity Hispanic
Religion Christian
Body Type Athletic
Education Some college
Occupation Stylist
Tel 929-338-4918
Description
Are you here to try your luck? So you're on the right track! I believe that fate can bring a good man into my life! You could be this man! I am a self-assured and mature woman, who knows pretty well what she wants from life. I have a good sense of humor and I believe that positivity, in general, is an inseparable part of our lives. I do believe that there is nothing impossible, so, I decided to look for my love here. Who knows, maybe my soulmate is reading these words right now. I don't need a prince on a white horse, I need a man faithful and sincere in his feelings who will not betray me and my feelings. I would like you to be my guide on our trip! Are you ready?
IP address 216.151.191.147 – proxy
---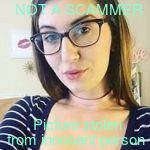 Username Ayishapretty054
Email Ayishapretty054@gmail.com, jaydenlove852@gmail.com, bensonrita313@gmail.com
Name Rita Benson, Ayisha, Jayden
Looking for Male
Age 30 y.o.
Country United States
City New York
Here for Friendship, Just Fun
Marital status Single
Sexual Orientation Bisexual
Children I have 1-2 children living with me
Ethnicity White
Religion Christian
Body Type Athletic
Education Student
Occupation Student
Description
I'm seeking a serious long term relationship and more. Someone who is responsible, respectful, can take care of themselves, and who is employed.special to capture my heart and knows how to handle it with care add me on hangout jaydenlove852@ gemaledot com
IP address 45.134.255.154 – proxy, 197.251.240.22 – Ghana
---
Username Adrian21
Email adriankimara3@gmail.com
Name Adrian Kimara
Looking for Male
Age 32 y.o.
Country United States
City San Francisco
Here for Friendship, Romance, Serious Relationship, Marriage
Marital status Single
Sexual Orientation Straight
Children I don't have children
Ethnicity White
Religion Christian
Body Type Athletic
Education High School
Occupation Hair dresser
Description
I am Adrian 32 years single and searching looking for a good man to love me, Let me know if you are interested
IP address 129.205.124.119 – Nigeria
---
Username Sandra852
Email seeklove20kk@gmail.com
Looking for Male
Age 30 y.o.
Country United States
City Alaska
Here for Friendship, Serious Relationship
Marital status Single
Sexual Orientation Bisexual
Children I don't have children
Ethnicity White
Religion Christian
Body Type Athletic
Education High School
Occupation Student
Tel 253-336-1479
Description
Hello HandSome Man How Are You Going Today So Do You have Hangout Or Text So That You Can Add Me Or Text Me And I Need To Know You If You Want To Take To Me Now Okay Can You Add Me One Seeklove20kk@Gmail.com Or My Text Me On (253) 336-1479
IP address 72.52.87.78 – proxy
---
More emails of scammers
traverionhousey93@gmail.com
leinamrl@gmail.com
Bethanyharris2345@gmail.com
Masonalex6600@gmail.com
agap917@gmail.com
zack.assir@mail.ru
cinthymary034@gmail.com
lieutenant.ann2018@gmail.com
andreawoertink9@gmail.com
musiliyadauwda5@gmail.com
barryp871@gmail.com
This post was viewed 620 times