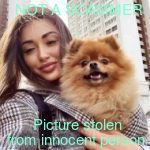 Username amelia5656
Email ameliawood2050@gmail.com
Name Amelia Wood
Looking for Male
Age 34 y.o.
Country United States
City texas
Here for Serious Relationship
Marital status Single
Sexual Orientation Straight
Children I don't have children
Ethnicity Mixed
Religion Christian
Body Type Average
Education Bachelors Degree
Occupation self emply
Description
i am a good woman i like honest and dilike dishonest. i like to cook and bake
IP address 105.112.115.35 – Nigeria
---
Username kingsflower82009
Email kingsflower82009@gmail.com
Name Kings Flower
Looking for Male
Age 33 y.o.
Country United States
City san diego
Here for Friendship, Romance, Serious Relationship, Marriage, Just Fun
Marital status Single
Sexual Orientation Straight
Children I don't have children
Ethnicity White
Religion Christian
Body Type Average
Education High School
Occupation Store attendant
Description
Personal Description Christiana 33 years single and i am virgin. I'm only child of my parents. I live in Cheyenne WY. I don't smoke or do drugs but occasional beers on occasions brown hair brown eyes no psychological or mental issues no criminal record. Find me on hangout or gmail at kingsflower82009@gnail.com
IP address 41.66.228.57 – Ghana
---
Username Nooramee
Email sansandr405@gmail.com
Age 25 y.o.
Here for Fun, Friendship, Romance, Serious Relationship, Marriage
Looking for Male
My match's age from 30 to 68
City Helsinki, Finland
Marital status single
Children no children
Sexual Orientation Straight
Ethnicity black
Religion Christian
Occupation Student
Description
I woman of honor,respect,kind,very social and God fearing
I am looking for a man who is willing to create strong family with its values.
IP address 91.195.99.180 – proxy
---
Username shei675
Email ddke67@outlook.com
Gender Female
Looking for Female
Age 55 y.o.
Country United States
City turlock
Here for Friendship, Serious Relationship
Marital status Single
Sexual Orientation Straight
Children I don't have children
Ethnicity White
Religion Other
Body Type Average
Education Some college
Occupation entreprenuer
Description
I am a caring cheerful and romantic person who loves life and its surroundings.Worldly, cultured, generous, experienced, adaptable, educated,family oriented, loyal, respectful, respectable, curious, compassionate, strong, sensitive . . . I try to explore all that life has to offer whether it's a casual walk on the beach, or traveling to someplace exciting or romantic.I am an honest, confident, positive and upbeat person who is happy and content with my life.Music is central to me, for it energizes me. Any instrumental music, regardless of form, covers my sphere of interest. I hope to learn to play an instrument some day; another item on my bucket list. I also enjoy musical theatre.
IP address 47.45.108.202 – proxy
---
Username Jasmine59
Email jadejasmine181@gmail.com
Name Jade Jasmine
Looking for Male
Age 31 y.o.
Country Canada
City Alberta
Here for Serious Relationship
Marital status Single
Sexual Orientation Straight
Children I don't have children
Ethnicity White
Religion Christian
Body Type Athletic
Education Masters Degree
Occupation Nurse
Description
I'm jasmine and I'm here for a serious relationship if interested let's talk more on Hangouts jadejasmine181@gmail.com
IP address 154.160.7.218 – Ghana
This post was viewed 631 times