Username Emily333
Email jamesangela078@gmail.com
Name Angela James
Age 38 y.o.
Here for Serious Relationship
Looking for Male
My match's age from 35 to 60
Location New York, NY, USA
Marital status single
Children no children
Sexual Orientation Straight
Ethnicity native american
Religion Christian
Occupation Military
Description
I am very humble, honest, sincere, respectful and cool and i'm looking a nice man for serious relationship
IP address 23.154.160.173 – proxy
---
Username Jane1995
Email janewillis360@gmail.com
Name Jane Willis
Looking for Male
Age 24 y.o.
Country Spain
City Madrid
Here for Friendship
Marital status Single
Sexual Orientation Straight
Children I don't have children
Ethnicity White
Religion Christian
Body Type Fit
Occupation Artist and speaker
Description
I love meeting new people
Hmu @ Janewillis360@gmail.com for friendship
IP address 129.205.112.215 – Nigeria
---
Username sabinaaidan
Email bettyderrik4u22@gmail.com, sabinaaidan4u@gmail.com
Name Sabina Aidan, Betty Derrik
Looking for Male
Age 29 y.o.
Country United States
City new york
Here for Friendship, Romance, Serious Relationship, Marriage
Marital status Single
Sexual Orientation Straight
Children I don't have children
Ethnicity Black
Religion Christian
Body Type Average
Education High School
Occupation any
Description
I m looking for someone who believes on equality in marriage. I m honest caring and loving person
Hello dear,
I'm sabina Aidan from united kingdom
I am a very caring and faithful woman. I am kind, gentle, understanding, and honest. I am sensual and affectionate and I believe that romance is an important part of a successful relationship. Please
kindly give me your email or reply me in my email (sabinaaidan4u@gmail.
com)
I am waiting for your response.
sabinaaidan4ugm-ail.com
IP address 37.120.129.43 – proxy
---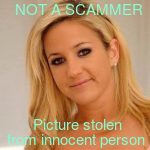 Username Marilyne2020
Email deffaletmarilyne@gmail.com
Name Marilyne Deffalet
Looking for Male
Age 28 y.o.
Country France
City Mulhouse
Here for Serious Relationship, Marriage
Marital status Single
Sexual Orientation Straight
Children I don't have children
Ethnicity White
Religion Spiritual
Body Type Average
Education Bachelors Degree
Description
Je cause avec tout le monde je suis encore plus excité de faire de nouvelle rencontre sur le net
IP address 160.154.145.98 – Ivory Coast
---
Username Elizabeth10
Email lizzydamsel10@gmail.com
Looking for Both
Age 26 y.o.
Country Canada
City Toronto
Here for Serious Relationship
Marital status Single
Sexual Orientation Straight
Children I don't have children
Ethnicity White
Religion Christian
Body Type Slim
Education Some college
Occupation Agent /Contractor
Description
I'm so honest and good heart, i love those who love me
you can send me a mail or ask for my contact if interested in me.
lizzydamsel10@gmail.com
SCAMMER STAY AWAY…!!!
IP address 154.120.86.137 – Nigeria
This post was viewed 1130 times