Username Mirandarimando
Email iname2210@gmail.com
Name Miranda Rimando
Age 31 y.o.
Here for Serious Relationship, Marriage
Looking for Male
My match's age from 40 to 86
Location Los Angeles, CA, United States
Marital status single
Children no children
Sexual Orientation Straight
Ethnicity mixed
Religion Christian
Description
How much can you learn about a person with so little space and time? I would like to say that I am tall, gorgeous but alas this is the internet where lies are told. So I stand before you and present you with the raw truth. Besides, isn't that what a relationship should be based on? I stand 5'8″ tall, weighing 240 lbs. with salt and pepper hair , blue eyes and a closely trimmed beard. Well there you have it, the truth but what is in that type of description? If you are one of those that are looking for mere attraction then skip my ad and don't waste our time. However, if you want to learn about my loving side, a side that desires a passion so extreme and so sincere, a side unseen by many, but not by my choice of course. I am a romantic at heart. I live for the soft gentle kisses of man on my forehead and the loving embrace while watching a tearjerker movie (with a three-hanky rating. I live for the silent walks together down the beach and the holding hands while walking through the park. Does it even exist anymore or has everyone turned to superficial sex and head games? I want more, I deserve more and so do you if you have continued to read this far. Intrigued? Curious to know more? I can assure you that I am not perfect, is anyone? I am human with a human heart over flowing with a lifetime of love and utter devotion, waiting to give to that special woman who reaches out her hand to accept. Respond and let's at least begin a friendship, the start to a beautiful relationship. I have been told that I'm intelligent, funny, charming, witty, romantic and a good cook but I hope that you will want to find out for yourself.
IP address 76.173.172.107 – proxy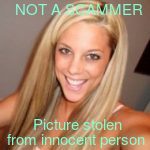 – different picture on other site
---
Username Marti
Email martishachappell5050@gmail.com
Name Martisha Chappell
Looking for Male
Age 25 y.o.
Country New Zealand
City Wellington
Here for Serious Relationship
Marital status Single
Sexual Orientation Straight
Children I don't have children
Ethnicity Black
Religion Christian
Body Type Average
Education Bachelors Degree
Occupation Entreprenue
Description
Am martisha Chappell,from Wellington new Zealand,and a beautiful lady that loves to travel and meet new people from any part of the world…you can chat me up on martishachappell5050@gmail.com
IP address 198.96.95.204 – proxy
---
Username lovelybaby
Email dianalovia5566@gmail.com
Name Diana Lovia
Looking for Male
Age 44 y.o.
Country United States
City califonia
Here for Serious Relationship
Marital status Separated
Sexual Orientation Bisexual
Children I have 1-2 children living elsewhere
Ethnicity White
Religion Other
Body Type Slim
Education Some college
Occupation business
Description
I am a positive, enterprising person and I like that the other people that relate to me are like this. I am fun cheerful but above all I like respect.
I am looking for a person that in principle we are friends and meet and if there is empathy a serious relationship
IP address 38.95.108.201 – proxy
---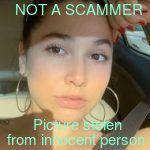 Username Lovelygirl123
Email ampoforaymond7@gmail.com, kaswellmargaret@gmail.com
Name Kaswell Margaret
Looking for Male
Age 32 y.o.
Country United States
City California
Here for Serious Relationship
Marital status Single
Sexual Orientation Straight
Children I don't have children
Ethnicity White
Religion Christian
Body Type Voluptuos
Education Some college
Description
In my childhood, I dreamed of becoming a good person and I believe I am. I always wanted to help people. I wanted to become a volunteer, to own animal shelter, to rule kids summer camp, or to become a nurse. But I am totally happy now with what I am. I am a military woman a lady, who is very tired of being alone. I need to find my gentleman, and this is why I am here. I don`t mind and even wanted to find foreigner and maybe change my life completely, I am ready for taking the effort and for changes in my life. I like to dream. I believe that our dreams become reality and I believe this site will help us. You never know, where you will find your destiny. Maybe I will meet it here!
Am Margaret looking for a serious relationship with a good man you can send me an invite on hangouts kaswellmargaret@gmail.com if you interested
IP address 41.66.203.28 – Ghana
---
Username Abigail4luv
Email sarahcollins99@yandex.com
Gender Female
Looking for Female
Age 32 y.o.
Country United States
City Virginia
Here for Friendship, Romance, Serious Relationship, Marriage
Marital status Single
Sexual Orientation Straight
Children I don't have children
Ethnicity Native American
Religion Christian
Body Type Average
Education Masters Degree
Occupation Administration
Description
I am loving, honest and caring person with a good sense of humor, I enjoy meeting new people and knowing their way of life, I enjoy watching the sea waves and the beauty of the mountains and everything that nature has to offer.
IP address 196.171.43.68 – Togo
---
More emails of scammers
Sophiatony2020@gmail.com
Maryanderson2284@gmail.com
angelachamp1234@gmail.com
linderpour@gmail.com
ndong.joseph@yahoo.com
haverasa@gmail.com
hildahildahills@gmail.com
This post was viewed 718 times