Username chsfrr
Email chsfrr@hotmail.com, Kellyhallisey1@hotmail.com
Name Kelly Hallisey
Age 56 y.o.
Here for Serious Relationship, Marriage
Looking for Female
My match's age from 19 to 86
Location Salt Lake City, Utah, United States
Marital status single
Children no children
Sexual Orientation Straight
Ethnicity white
Religion Christian
Do you smoke non-smoker
Do you drink social drinker
Occupation Marine Tech Engineer
Description
I am a very simple and easy going man, I am secure with who I am, I accept others for who they are and I don't feel the need to change or criticize anyone. I do not "have to be right", to me, everyone is entitled to their view. I am intelligent, a good communicator, have a good sense of humor, like affection and romance, and ethics and character are more to me than just traits that everyone claims to have. I am someone you can count on, I am a giver and do not endure anyone that is only a taker. I also enjoy movies, sporting events, plays, dining out, parks, but most of all, just being with the right person. Anything is fun if you are with a fun person. Having similar values is very important to sustaining a relationship for any length of time.
IP address 78.180.133.113 – Turkey (Nigerian in Turkey)
---
Username Romondlook101
Email mathinjerry@gmail.com
Name Mathin Jerry
Looking for Female
Age 50 y.o.
Country United States
City new york
Here for Marriage
Marital status Single
Sexual Orientation Straight
Children I don't have children
Ethnicity Native American
Religion Christian
Body Type Average
Education Masters Degree
Occupation Contractor
Description
am looking for a God fearing woman for marriage.
IP address 212.103.48.148 – proxy
---
Username robertrobertferdinand
Email robertrobertferdinand@gmail.com, Michealvissanio@gmail.com
Name Robert Ferdinand, Micheal Vissanio
Looking for Female
Age 54 y.o.
Country United States
City IDAHO
Here for Serious Relationship
Marital status Divorced
Sexual Orientation Straight
Children I have 1-2 children living elsewhere
Ethnicity Other
Religion Other
Body Type Fit
Education Other
Occupation Engineer
Description
my name is Robert Ferdinand. i am from Idaho in united state of America. I'm looking for lovable lady that i can spend the rest of my life with. i am a caring and God fearing person with self discipline and more also an easygoing man
IP address 102.89.2.158 – Nigeria
---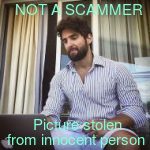 Username gary909
Email smithagary2424@gmail.com
Name Gary Smith
Looking for Female
Age 50 y.o.
Country United States
City New York
Here for Serious Relationship, Marriage
Marital status Widowed
Sexual Orientation Straight
Children I have 1-2 children living with me
Ethnicity Asian
Religion Christian
Body Type Average
Education PhD
Occupation IT and Jewlery
Description
I am simple, bold and a kind heart and i deserve also the same heart
IP address 197.210.53.241 – Nigeria
---
Username Mic_daniel001
Email Mic.danix@gmail.com
Looking for Female
Age 56 y.o.
Country United States
City Louisiana
Here for Romance, Serious Relationship, Marriage
Marital status Single
Sexual Orientation Straight
Children I don't have children
Ethnicity Mixed
Religion Christian
Body Type Average
Education Bachelors Degree
Occupation Engineer
Description
They say men are not shy, I think i am, I'm free, funny,
IP address 102.89.1.29 – Nigeria
This post was viewed 2332 times