Username Martins445
Email christomartins445@gmail.com
Name Christo Martins
Looking for Female
Age 46 y.o.
Country United States
City Hawaii
Here for Serious Relationship
Marital status Widowed
Sexual Orientation Straight
Children I want children
Ethnicity Native American
Religion Christian
Body Type Fit
Education PhD
Occupation US Military
Description
I love swimming and I'm sure we can start from somewhere
IP address 105.112.106.203 – Nigeria
---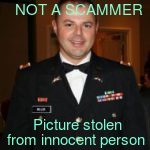 Username micheal51
Email michealmilleralex@gmail.com
Name Micheal Miller
Looking for Female
Age 51 y.o.
Country United States
City Atlanta
Here for Friendship, Romance, Serious Relationship, Marriage
Marital status Widowed
Sexual Orientation Straight
Children I want children
Ethnicity Native American
Religion Christian
Body Type Slim
Education Masters Degree
Occupation Army
Description
i am easy going man down to earth Looking for a serious relationship
IP address 41.190.3.174 – Nigeria
---
Username wesmiller
Email danieldanawesmiller50@gmail.com
Name Daniel Wesmiller
Looking for Female
Age 33 y.o.
Country Canada
City Quebec
Here for Friendship, Romance, Serious Relationship
Marital status Single
Sexual Orientation Straight
Children I don't have children
Ethnicity Native American
Religion Christian
Body Type Average
Education Bachelors Degree
Occupation Militry
Description
I am a very strong and attractive man who is submissive to my partner and dedicate my life to others. My sense of humor is very great and I love to share it with only the interested lady around the globe. I love travelling to see nature .
IP address 5.181.233.54 – proxy
---
Username GenWilliams01
Email genwilliams89@gmail.com
Looking for Female
Age 54 y.o.
Country United States
City California
Here for Friendship, Serious Relationship, Marriage
Marital status Widowed
Sexual Orientation Straight
Children I have 1-2 children living with me
Ethnicity White
Religion Christian
Body Type Slim
Education Other
Occupation Military soldier
Description
Honest and trust worthy
IP address 41.215.172.14 – Ghana
This post was viewed 690 times