Username Honesty010
Email pauldonner22@gmail.com
Name Paul Donner
Age 60 y.o.
Here for Serious Relationship
Looking for Female
My match's age from 55 to 86
Location Cape Town, South Africa
Marital status single
Children no children
Sexual Orientation Straight
Ethnicity white
Religion Christian
Occupation Engineer
Description
Sometimes the best guy isn't always the hottest guy or the richest… sometimes he's the ugliest or the poorest. Don't go through life wearing shutters, learn to take them off" With that being said… I am someone with a solid base of wisdom, I am down to earth, Grounded, Non Materialistic, someone who's lived a life.
IP address 172.58.222.138
---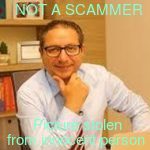 Username BRANDON12
Email brownfresh3@gmail.com
Name Brandon Ken Walker
Looking for Female
Age 61 y.o.
Country United States
City California
Here for Serious Relationship, Marriage
Marital status Divorced
Sexual Orientation Straight
Children I have 1-2 children living elsewhere
Ethnicity White
Religion Christian
Body Type Slim
Education PhD
Occupation DOCTOR
Description
I'm Brandon Ken Walker from California, United States.
Nice having you here and a pleasure to meet you.
I'm a Doctor, General Surgeon by profession.
I'm a widower with 2 kids
IP address 102.176.65.68 – Ghana
---
Username RichieOconnor
Email richieoconnor2@gmail.com
Name Richard O'connor
Looking for Female
Age 46 y.o.
Country United States
City Houston Texas
Here for Friendship, Serious Relationship, Marriage
Marital status Divorced
Sexual Orientation Straight
Children I have 1-2 children living elsewhere
Ethnicity White
Religion Christian
Body Type Athletic
Education Masters Degree
Description
I am Richard O'connor,father of wonderful son,I am here looking for the woman to make my house a Home
IP address 41.242.137.24 – Ghana
---
Username Ben57040472
Email graycamilla90@gmail.com
Name Gray Camilla
Looking for Female
Age 31 y.o.
Country United States
City New York
Here for Friendship, Romance, Serious Relationship, Marriage
Marital status Single
Sexual Orientation Straight
Children I don't have children
Ethnicity White
Religion Christian
Body Type Slim
Education High School
Occupation Engineer
Description
Hello…. what a wonderful profile you have got…Love this smile on ur pic..was just browsing on this site and thought of your profile, I would love to know you more, So we can get to know each other better, i am interested in getting to know more about you, I'll be waiting for your feed back
IP address 196.53.0.30 – proxy
---
Username kimpeterson772
Email kimpeterson772@gmail.com
Name Kim Peterson
Looking for Female
Age 33 y.o.
Country United States
City California
Here for Marriage
Marital status Widowed
Sexual Orientation Straight
Children I don't have children
Ethnicity Mixed
Religion Christian
Body Type Athletic
Education Bachelors Degree
Occupation business
IP address 129.205.113.144 – Nigeria
---
More emails of scammers
wilsonjonathanesq@gmail.com
bbrowbrown@yahoo.com
allisonboham28@gmail.com
isalifu1867@gmail.com
helbbs113@gmail.com
nnancyd1@gmail.com
rebeccagray651@gmail.com
rm4131151@gmail.com
This post was viewed 1179 times