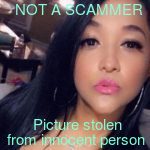 Username Rosalba991
Email Maryreaves70@gmail.com
Name Mary Reaves
Looking for Male
Age 31 y.o.
Country United States
City Philadelphia
Here for Romance, Serious Relationship, Marriage
Marital status Single
Sexual Orientation Straight
Children I don't have children
Ethnicity Mixed
Religion Other
Body Type Fit
Education Some college
Description
Simple and elegant.. Most people say I'm hot
IP address 197.211.61.132 – Nigeria
---
Username gina4love
Email melabarett@gmail.com
Gender Female
Looking for Male
Age 28 y.o.
Country United States
City Alabama
Here for Friendship, Serious Relationship, Marriage
Marital status Single
Sexual Orientation Straight
Children I don't have children
Ethnicity Black
Religion Christian
Body Type Average
Education High School
Occupation currently not working
Description
I love friends and family, I am a lot of fun
and make friends easily. I love life, love my family and still have some
love to share with a special people. Life can be lonely without
someone
IP address 92.38.148.61 – proxy
---
Username Giftyessien
Email gifty.essien30@gmail.com
Name Gifty Essien
Looking for Male
Age 53 y.o.
Country United States
City Florida
Here for Serious Relationship
Marital status Single
Sexual Orientation Straight
Children I don't have children
Ethnicity White
Religion Christian
Body Type Slim
Education Some college
Occupation Student
Description
Am gifty and am very sexy and Down to earth and am here for serious relationship if you want us to try text me your hangout or your WhatsApp number to get to know each other and see how things will go for us
IP address 104.37.31.111 – proxy
---
Username Ketrin
Email ketrinsins@gmail.com
Name Ketrin Sins
Looking for Male
Age 21 y.o.
Country United States
City Buffalo
Here for Friendship, Romance, Serious Relationship, Marriage, Just Fun
Marital status Single
Sexual Orientation Straight
Children I don't have children
Ethnicity White
Religion Atheist
Body Type Fit
Education Student
Occupation IT
Description
I like to spend time alone or in the company of one person. Read books. I especially love James Headley Chase. Very calm and even a little boring, but very loyal.
IP address 192.3.190.206 – proxy
– different pic on hangouts
---
Username lizzy111
Email tracygonzalez111@hotmail.com
Name Tracy Gonzalez
Looking for Male
Age 31 y.o.
Country United States
City Hawthorne
Here for Friendship, Romance, Serious Relationship, Marriage
Marital status Single
Sexual Orientation Straight
Children I don't have children
Ethnicity Native American
Religion Christian
Body Type Average
Education Some college
Occupation Unemployed
IP address 172.98.93.167 – proxy
This post was viewed 703 times